Dayton Flyers Head Coach
Anthony Grant was just recently announced as the new head coach of men's basketball team at the University of Dayton after the departure of Archie Miller to Indiana University.  This can be looked at as a homecoming of sorts as played at Dayton from 1983-1987.
Grant, a former UF assistant under Billy Donovan and head coach at VCU and Alabama, discusses the time line of his hire with the Flyers.
Grant's Coaching History 
Grant's coaching career dates all the way back to 1987. Grant spent 10 years as the assistant coach under Billy Donovan for the Florida Gators. Grant's coaching was a key component to the Gators winning a national title.  After his Gator career Grant coached VCU from 2006-2009 and finished with a record of 76-25. In 2007 Grant was awarded as the Colonial Athletic Association Coach of the Year during his time with VCU. From there Grant went on to become the head coach for the University of Alabama men's basketball team. Grant's tenure with the Crimson Tide lasted from 2009-2015 and he finished with a 117-85 record. In 2012 Grant coached the Tide to its first NCAA Tournament appearance since 2006. In 2015 Grant was hired as assistant coach for the Oklahoma City Thunder again under Billy Donovan.
Westbrook
One of the players he coached with Donovan in the NBA is Russell Westbrook, the man who just tied the great Oscar Robertson for most triple-doubles in a single season.  Grant gives his take on Westbrook and historic season.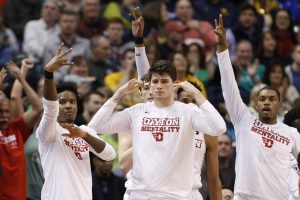 Grant says he has met with his new team and is excited to start coaching his group.
An exciting new chapter of Dayton Flyer Basketball begins! https://t.co/cPAuTiFYq9 pic.twitter.com/xUTknglieR

— Dayton Basketball (@DaytonMBB) March 30, 2017