After sitting on the decision for a couple of weeks, junior Devin Robinson has decided to forgo his senior season and declare for the 2017 NBA Draft. Robinson averaged 11.1 points and 6.1 rebounds per game in his junior year. During the NCAA Tournament, DRob notched 12.5 points and 6 rebounds per contest while shooting 52.8% from the field and 40% from beyond the arc. Robinson was given an early-2nd round grade by DraftExpress, but listed as undrafted by NBADraft.net. On ESPN's latest Top 100 players for the 2017 NBA Draft, Robinson is listed at 68, which projects him to be either a late 2nd-round pick or go undrafted.
Devin Robinson never missed a game in his three years with the Florida Gators and recorded five career double-doubles, with the most recent one coming on a 14 point, 11 rebound performance against Virginia in the 2017 Round of 32.
"I know I am ready for this next step and I am personally excited for all the new challenges that will be presented with this decision," Robinson wrote. "I will always cheer on and be a huge supporter of the University of Florida. I will forever be a Gator."
https://twitter.com/drobbb3/status/852977050310893568
Draft Stock
In the NBA, Devin Robinson's body-type has become extremely sought after in the current day and age. Robinson is a 6'8″, 200-pound swingman who can shoot, drive, rebound and pass. Despite this, I would be shocked if a team used a 1st-round pick on DRob. If he is taken in the 2nd round, his contract is non-guaranteed and must be picked up by the team he was selected by. Robinson could've improved his stock to a lottery pick in the shallow 2018 NBA draft, per some models, but has decided to jump in head first to a deep draft.
"We'll miss Devin here, but he'll always be a part of the Gator family," head coach Mike White said. "We're excited for Devin as he continues to pursue his dream and grateful for his role in helping reestablish the culture and success of the Florida basketball program."
So with Devin Robinson's departure, Florida has 12 players for 13 scholarship spots. Rice transfer Egor Koulechov visiting UF this weekend.

— Kevin Brockway (@gatorhoops) April 14, 2017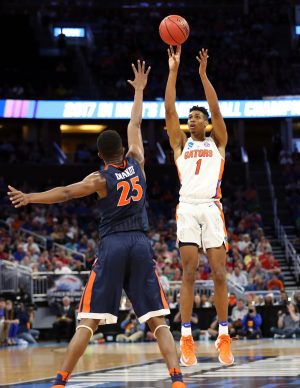 Florida's Lineup
Without Devin Robinson, Keith Stone will take on a much bigger role than he did in the 2016-2017 season per Mike White. While the decision came as a surprise to many, Mike White said in his final press conference of the season that he'd be "excited" and "somewhat surprised" if Devin Robinson returned for his senior season.  With that being said, it's time to look at some potential Florida starting lineups for next season.
1. Chris Chiozza, KeVaughn Allen, Jalen Hudson, Keith Stone, Kevarrius Hayes
If Jalen Hudson can pick up his defensive effort, which is what's holding him back from being a starter, he'll be a part of a three-guard starting lineup for the Gators next season in all likeliness. This opening five would allow Florida to run a fast-paced game behind the legs of Chiozza, Allen and Hudson. Keith Stone would be utilized more in the post than he was this season in this starting lineup.
2. Chris Chiozza, KeVaughn Allen, DeAundrae Ballard, Keith Stone, Kevarrius Hayes
In this starting lineup, DeAundrae Ballard starts at the three for Florida in place of Devin Robinson. Because of Isaiah Stokes' ACL injury and inability to compete with Keith Stone for the starting power forward position, Ballard would be the next man up at the small forward spot. Stokes could be played at the power forward spot if the Gators decided to go with a bigger lineup once he's healthy.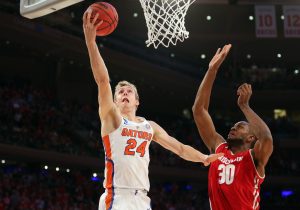 Portsmouth Invitational Tournament
Canyon Barry was selected to the Portsmouth Invitational Tournament for the nation's top seniors and has flourished in his first two games. He notched 20 points and 12 rebounds in his first game, while recording 13 points and 6 rebounds in his second game on Friday afternoon. Other notable players in the PIT include Wisconsin guard Bronson Koenig, Georgia guard J.J. Frazier, Virginia guard London Perrantes, Ole Miss forward Sebastian Saiz, UNF guard Dallas Moore, Dayton guard Scoochie Smith, MTSU forward JaCorey Williams, UCLA guard Bryce Alford, Duke guard Matt Jones and Kentucky forward Derek Willis.
Barry still has the opportunity to be invited to the 2017 NBA Draft Combine in Chicago. Canyon averaged 11.4 points on 42.2% shooting in his first and only year with the University of Florida. He also shot 88.3% from the foul line.