Second-half goals from Harry Kane and Dele Alli helped Tottenham to a 2-0 victory over Arsenal in the final North London Derby at White Hart Lane. Tottenham have now won nine games in a row and 13 in a row at White Hart Lane. This win also ensures the first time in 22 years that Tottenham will finish above Arsenal.
Lineups: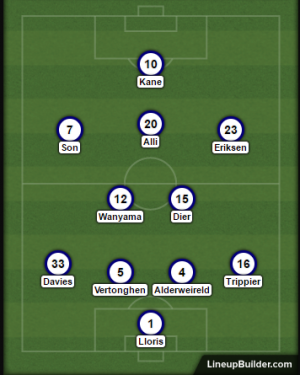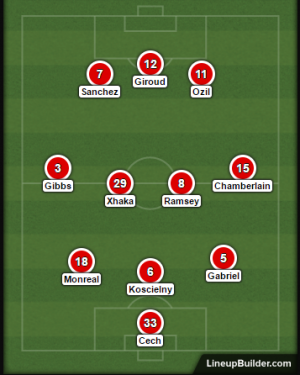 Tottenham changed to a 4-2-3-1 from their regular three-man defense, bringing in Trippier for Walker and Son for Dembele. Arsenal stuck with the 3-4-3 from their 1-0 victory against Leicester, bringing in Chamberlain, Ramsey, and Giroud for Bellerin, Coquelin and Walcott respectively.
Play-by-Play:
First Half:
The first 20 minutes was fast and furious but didn't see any clear chances. Arsenal came out with a very high press to put pressure on the Tottenham back four. Tottenham welcomed the pressure in hopes of countering quickly but seemed nervous to start the game and couldn't find their passing rhythm.
Arsenal also struggled with holding on to the ball and seemed uncomfortable in this unfamiliar formation. Despite having the reputation of being the pace-setter and aggressor in games, Arsenal only enjoyed 35% possession for the first 20 minutes.
Poor Finishing
Tottenham were able to get their passing together as the half wore on and were unlucky not to score on two occasions. A long ball from Dier found Kane on the right side of the box in the 23rd minute. He steadied himself and got a shot off which deflected off Koscielny and looped toward the far post. Alli charged into the six-yard box and managed to head the ball but inexplicably put his shot wide of the post.
A trademark quick and incisive counter attack from Tottenham hit the crossbar two minutes later. Wanyama intercepted the ball on the left flank deep in Tottenham's half and chipped it down the line for Son. The Korean nutmegged Chamberlain with his first touch to cut inside the box and take a shot which Koscielny blocked. The ball popped up to an unmarked Eriksen on the edge of the six-yard box but his left-footed volley clipped the bar and went over.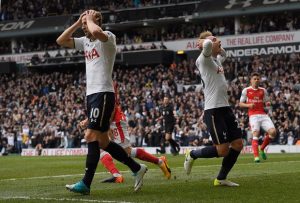 Arsenal did manage to generate some momentum of their own but the chances they created weren't as clear cut. Ramsey had a curling effort from outside the box in the 38th minute but Lloris made a good save low to his left.
Sanchez ended up with the ball on the left flank after a corner and attempted to cut in and curl it into the far corner a la Harry Kane from last season but his shot was wide. Vertonghen had the last chance of the half in stoppage time after a corner from outside the box. The shot was a left-footed mirror of Ramsey's and Cech's save was a mirror of Lloris' low to his left.
HALFTIME
The stats at halftime made the game seem more even than it was as Arsenal were lucky to be level. Tottenham had 8 corners to Arsenal's 3 and a 51% possession advantage. Tottenham attacked the out-of-position Chamberlain at wing back and their domination of possession meant Ozil and Sanchez didn't have the time to influence the game.
Second Half:
There were no substitutions at half-time although Son did move to the right wing. The switch proved to be successful and helped Tottenham score nearly immediately when Son wriggled through a few defenders before passing the ball to Trippier in the 48th minute. Trippier pulled the ball back in the middle to Wanyama outside the box and the Kenyan's shot had to be palmed over the bar.
The resulting corner was played short and found a completely unmarked Son near the near post but his shot hit the side netting. Arsenal were looking vulnerable again three minutes later as Kane burst through the center and took a long range shot with his left but it was straight to Cech.
Double Trouble for Arsenal
The breakthrough came five minutes later after a long throw from Trippier on the right flank. The ball was thrown to the edge of the box where Gabriel seemed to have control of it but Alli charged through and took control of it. He took a touch before playing it back to Eriksen who cut back out and took a shot which was saved. Alli followed the shot and slid in with his left to score off the rebound.
https://twitter.com/JulesHuijnen/status/858737079408357376
The day got worse for Arsenal as they conceded a penalty 107 seconds later. Wanyama won the ball near midfield and played it to Kane near the right edge of the box. The striker took a few touches into the box and charged to his left but was brought down by a late tackle for Gabriel. Kane scored the resulting penalty, low to Cech's right.
https://twitter.com/dariendude2/status/858725993208479745
2nd goal for Spurs. Kane with this usual London derby goal. #NLD #spurs #coys pic.twitter.com/1QG3IadFtW

— Mark (@thedevilmumbles) April 30, 2017
Arsenal had a chance to pull one back in the 60th minute after Giroud intercepted a Dier pass on the edge of Tottenham's box. The striker took a few touches before shooting but his shot was straight to Lloris. Welbeck was brought on for Xhaka 5 minutes later and moved to the right while Chamberlain and Ozil covered up in the center.
Vertonghen nearly added to Tottenham's lead three minutes later with a powerful curling left-footed effort from outside the box. Cech had to dive high to his left to make the save. Arsenal were looking like a diminished side and the game was in an extended winding down process for the remaining 20 minutes.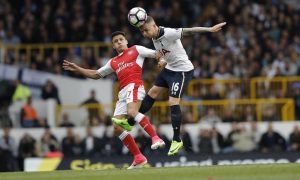 Yellow cards were picked up by both teams over the rest of the game. Gabriel, Giroud and Monreal were booked for Arsenal while Kane was booked for Tottenham. Gabriel was replaced by Bellerin shortly after his booking. Tottenham had one more good chance in the 77th minute after Wanyama made another strong tackle before chipping the ball into Kane's path on the right side of the box. Cech smothered the shot for a corner.
The keeper came to their rescue from the corner as he made a reflex save to prevent Alderweireld from scoring, his ninth save of the match.
FULLTIME: TOTTENHAM 2-0 ARSENAL
Match Stats:
20 Shots 12
11 On Target 4
54% Possession 46%
79% Pass Success 75%
14 Corners 5
Themes of the Game:
Change of Formations
We've seen Tottenham alternate between a 4-2-3-1 and their more commonly used 3-4-3 this season. Arsenal have been struggling for form of late and decided to only recently change to the 3-4-3 that has taken over the Premier League.
Tottenham's shift to a 4-2-3-1 was questionable but paid off as it capitalized on Arsenal's inexperience with the formation. By doubling up with full backs and wingers, Tottenham were able to stretch the game and put pressure on the Arsenal wingbacks. The Arsenal players who make the most passes per game are Xhaka (70), Ozil (64), Mustafi (62) and Koscielny (52): all central players. By forcing the play to move on the flanks, Tottenham took Arsenal's passing ability away from them which resulted in their domination in possession. For instance, Xhaka only made 35 passes, Ozil only 52.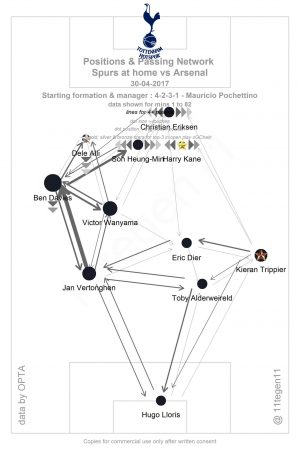 Ozil and Sanchez were expected to play as attacking inside forwards and not as traditional wide players and couldn't provide Chamberlain and Gibbs defensive support. They were placed on opposite flanks which help them cut inside to their preferred foot to shoot but it causes problems while defending out wide.
Chamberlain and Gibbs were expected to provide this width. Tottenham are a team that's very comfortable playing out from the back, Vertonghen, Dier and Alderweireld average 62, 54 and 49 passes a game respectively. They employed the same strategy with their back-four as they picked up over half of the teams passes. This drew pressure from Giroud, Sanchez and Ozil and Chamberlain who would revert to his normal tendencies as a more attacking player.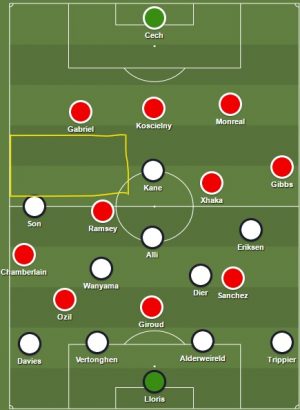 What's fascinating about the change in formation is it took away the one statistical advantage that the Gunners have held: interceptions. Koscielny, Monreal, Mustafi and Coquelin all average over 2 interceptions a game with Gabriel and Xhaka behind them with 1.6 and 1.4 respectively. Tottenham's highest interceptor is Vertonghen with 1.3 a game and only he, Walker, Rose, Wanyama and Dembele average 1 a game.
By keeping the ball with their defenders, Tottenham drew the Arsenal attackers to them leaving Spurs attackers open. The Arsenal defense were afraid of conceding a scoring chance so they would sit back and let the passes happen while hoping to make a tackle later. Today, the entire Arsenal team managed only 6 interceptions to Tottenham's 8.
Chamberlain as wing back
The 3-4-3 requires multifaceted wing backs capable of switching quickly between attack and defense. Arsenal has used Gibbs on the left consistently but decided to go with Chamberlain on the right today. Chamberlain has been mainly used as a central midfielder for Arsenal owing to his speed and stamina complementing Xhaka's hard tackles.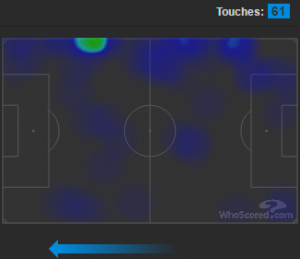 Today, he lacked the support or mentality to play as a wing back. Son, Davies, Wanyama and even Alli concentrated their attacks to the left which meant that Chamberlain needed the support of at 2-3 of his teammates. Gabriel played on the right while Ramsey was forced out of position to cover up for Ozil. This resulted in space constantly being available on the left for Tottenham to exploit. 21 of Arsenal's 34 attempted tackles were on the right half of the field, Chamberlain with 4.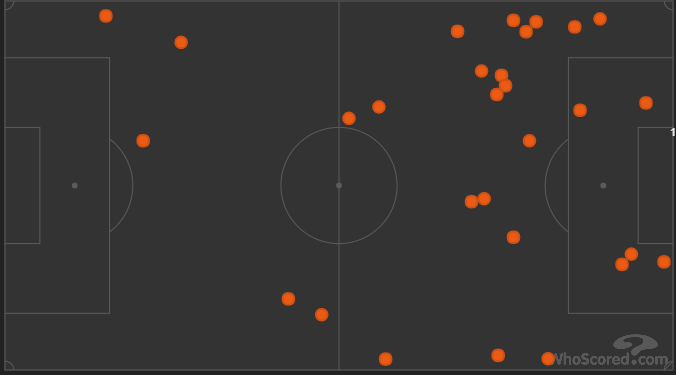 18 of Spurs' 29 attempted dribbles took place on the left half of the field(5 of the remaining 11 happened in 2 attempts). With so much of Tottenham's play relying on the left, it would be expected that Chamberlain would drop deeper to add another body in front of goal. Instead, he would frequently charge up the field leaving Son wide open. However, his pace would allow him to track back and make a tackle, block or interception. This was largely the trend of the first half and explains why it was goalless despite Tottenham domination.
This trend continued in the second half and it was in the space that Chamberlain left that Kane found for the penalty. Chamberlain's statistics also illustrate his erratic game. He had one clearance, committed two fouls and had 9 of Arsenal's 19 blocks. He also made 43 passes at 67% accuracy, completed one dribble and lost the ball three times.
Playing a more defense-minded winger could have forced Tottenham to switch wings and play to Arsenal's stronger left flank.
Tottenham reliance on left flank
When lining up, Tottenham appeared to be playing Son on the left and Eriksen on the right with Alli behind Kane. In reality, the Tottenham front line was slightly askew with Alli and Son pushing wide to the left to force Chamberlain back and take advantage of his defensive inexperience. 47% of Tottenham attacks came from the left flank and just 28% on the right.
With Tottenham enjoying a majority of the possession, even Vertonghen had the time and space to move to the left. Tottenham had over 40% of their touches on that flank through the likes of Son, Davies, Alli, Eriksen and Wanyama. This has been their modus operandi for a lot of the season with the likes of Rose, Son and Davies appearing near the top of the club's rankings for dribbles, key passes and fouls drawn per game.
The above heatmaps show a clear tendency for Tottenham attacks to flow through the left.
Ozil has garnered an infamous reputation of being a luxury player who doesn't do enough off the ball in terms of defensive pressure and stamina. Sanchez on the other hand is a workhorse who is constantly pressuring the opposition and trying to win the ball back. With Sanchez beginning on the left flank, Tottenham directed their attack to Ozil's flank (Arsenal's right).
Arsenal also focused their attacks to their left with 41% of their attacks coming from that flank. On this flank, they had Monreal in defense, Gibbs as a wing back and Sanchez up front. This probably served two roles as it kept the ball away from Tottenham's more attacking half and it capitalized on their more defensively-talented side of the field.
Son switched to the right in the second half and this had the same effect it did to Ozil on the right: it forced Sanchez to drop deeper to assist Gibbs and Monreal. Sanchez put more pressure than Ozil did, but with Dier and Wanyama in the middle blocking the potential pass, Sanchez's defensive efforts did not lead to spells of Arsenal possession and was a waste of his attacking talent.