It has been more than 19 years since AS Monaco FC and Juventus FC faced each other in the Uefa Champions League. It was in the 1997-1998 season. A semifinal that ended up on a 6-4 aggregate in favor of Juventus. That season ended up with Juventus facing Real Madrid in the final (What a coincidence!) and losing 1-0 at the Amsterdam Arena with a goal scored by Predrag Mijatović.
A bunch of things have happened to these two teams in that time span. Here are a few of those things: Soon-to-be 1998 World Champions Thierry Henry, David Trezeguet and Fabien Barthez were the best players at Monaco that year; Zinedine Zidane was Juventus's superstar and ended up winning the World Cup and Ballon d'Or that year; Juventus was the powerhouse of the football world (before Real Madrid took the throne away from them) – the "Bianconeri" went to three straight Champions League finals – '96, '97 and '98; a young Alessandro Del Piero delighted the world after scoring four goals in both games of that semifinal; Kylian Mbappé was not even born – he is 18 years old; Monaco was the best team in France before Juninho-mania started in Lyon a few years later; the word "Calciopoli" was not even a thing (yet).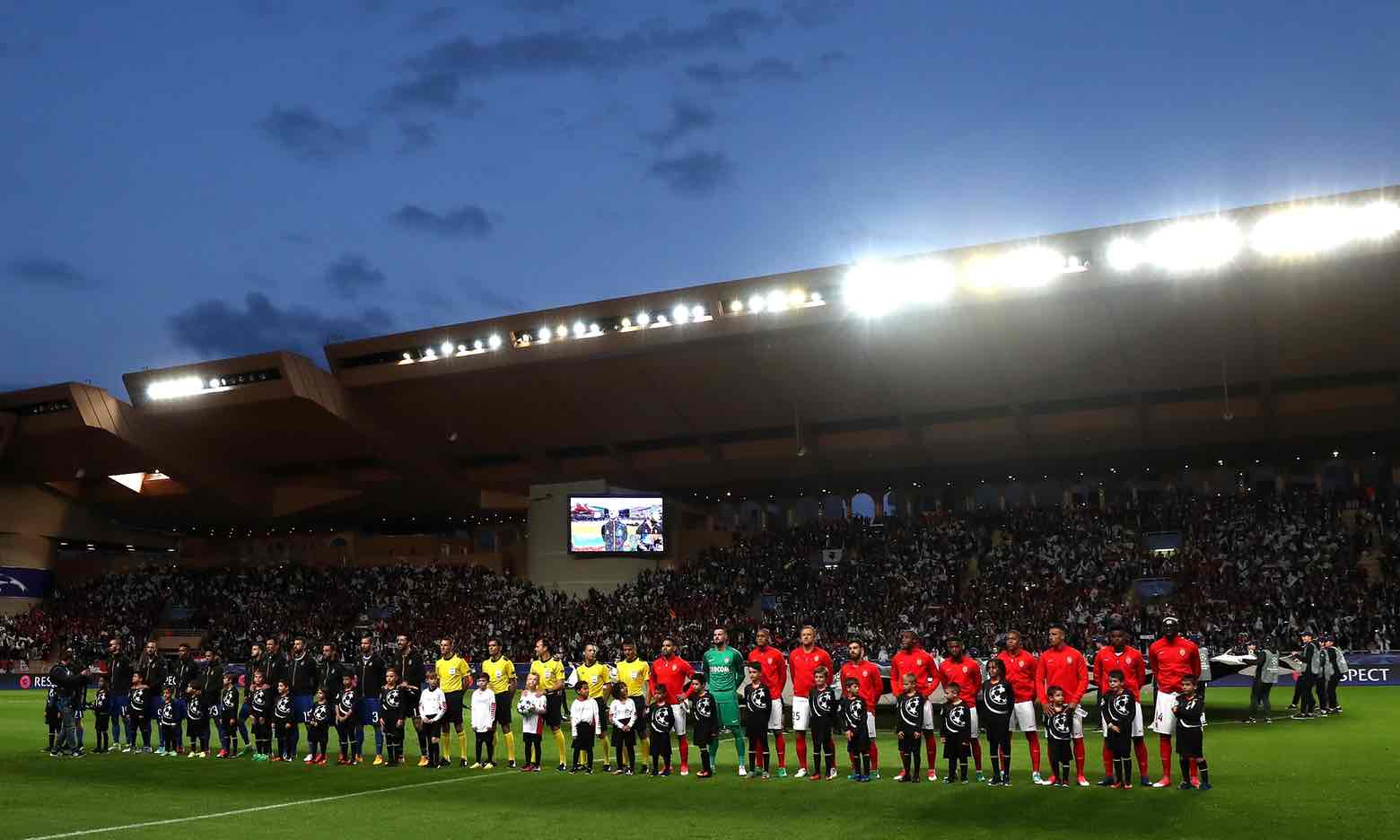 AS Monaco FC 0-2 Juventus FC
Lineups:
AS Monaco FC: Subasic; Dirar, Glik, Jemerson, Sidibé; Lemar, Fabinho, Bakayoko, Silva; Falcao, Mbappé. (4-4-2)
Juventus FC: Buffon; Barzagli, Bonucci, Chiellini, Sandro; Pjanić, Marchisio; Alves, Dybala, Mandžukić; Higuaín. (4-2-3-1)
More than 19 years later, there they were: Juventus, the best defense in the tournament – two goals conceded in 10 games; Monaco, the fifth best offense in the tournament – 21 goals scored in 10 games.
First Half: Dani Alves 2.0
Juventus is probably the most chameleonic team in football right now. All thanks to the versatility of its players and tactical mind of its head coach. The Italian BBC is well known as the most solid defensive line in the past years. A traditional Italian wall formed by Andrea Barzagli, Leonardo Bonucci and Giorgio Chiellini. Plus they have Gianluigi Buffon – he played his 100 Champions League game against Monaco – behind them if anything goes wrong.
A solid backline that got even better after the addition of Dani Alves this season. With Alves, Juventus has one of the most versatile players in the past 10 years. Alves is providing to Juventus the same quality level that he provided to FC Barcelona. He is a full-back who can constantly switch positions and help with the transition of the ball both through the interior and exterior of the right side of the pitch. That is exactly what he did in this game. Djiril Sidibé witnessed it. His connection with Paulo Dybala was majestic. Both players built triangle plays and divided players constantly in the game. In fact, both players had the most pass combinations of both teams (28) during the game, per fourfourtwo.com.
Monaco struggled to find good transition paths because of Juventus's constant lineup switching. A 3-4-2-1 on attack, a 4-2-3-1 on defense—with Alves constantly switching positions on every transition. Mbappé and Radamel Falcao did their best to find open gaps and leave their markers behind, but they could not do anything to pass through the BBC+B. Chiellini's feistiness on defense was the most difficult part to deal with for both strikers. He completed 15 out of 15 clearances during the game, per fourfourtwo.com.
Buffon was always there every time the defensive line needed some help. He stopped two fantastic chances by both Mbappé and Falcao. After those few chances, Juventus exploited the right wing thanks to the Dybala-Alves-Higuaín connection. In the 29th minute, Dybala made a back-heel pass to the open space for Alves on transition. Alves drove and hold it while dragging Kamil Glik to his side. Then Alves made a back-heel assist to Gonzalo Higuaín, who missed a couple of scoring chances minutes before the goal. Higuaín made the shot right away with his right foot in transition.
Second Half: Watch Out! Here Comes GonzaloGol Again
It did not take too long for Juventus to punch Monaco one more time. In the 59th minute, Juventus built a play that almost felt like a déjà vu. Dybala, Alves, and Higuaín connected once again. Dybala fought for a ball on the middle-right side of the pitch and left his marker behind. He passed the ball to Alves, who sent a beautiful long pass to Higuaín. Higuaín beat Glik once again and dived to send the strike with his left foot into the net.
After the second goal, it was all about controlling the pace and managing the clock for Juventus. Miralem Pjanić and Claudio Marchisio combined for 16 ball recoveries (nine and seven respectively), per fourfourtwo.com. This allowed Juventus to keep Monaco away from their box in some moments of the game. But Monaco found the way to keep creating danger. Of course, without having any success. Mbappé completed all four of his take-ons (per fourfourtwo.com) but failed because of the great anticipations by the defenders and Buffon.
Massimiliano Allegri replaced Marchisio for Tomás Rincón late in the game. Mainly because he wanted to avoid a possible second yellow card against Marchisio. Rincón provided solidity and good tempo to control the ball and protect his working area. Alves and Alex Sandro dropped back to the defensive line to keep the wings closed.
Both teams will face each other once again on May 9. The two away goals will help Juventus to have the advantage at Juventus Stadium. Monaco's offensive game will need to be at their best to come back from that deficit.