Today kicked off Day 2 of the SEC Media Days in Hoover, Alabama. Head coaches and their respective players seized the day by previewing the upcoming football season.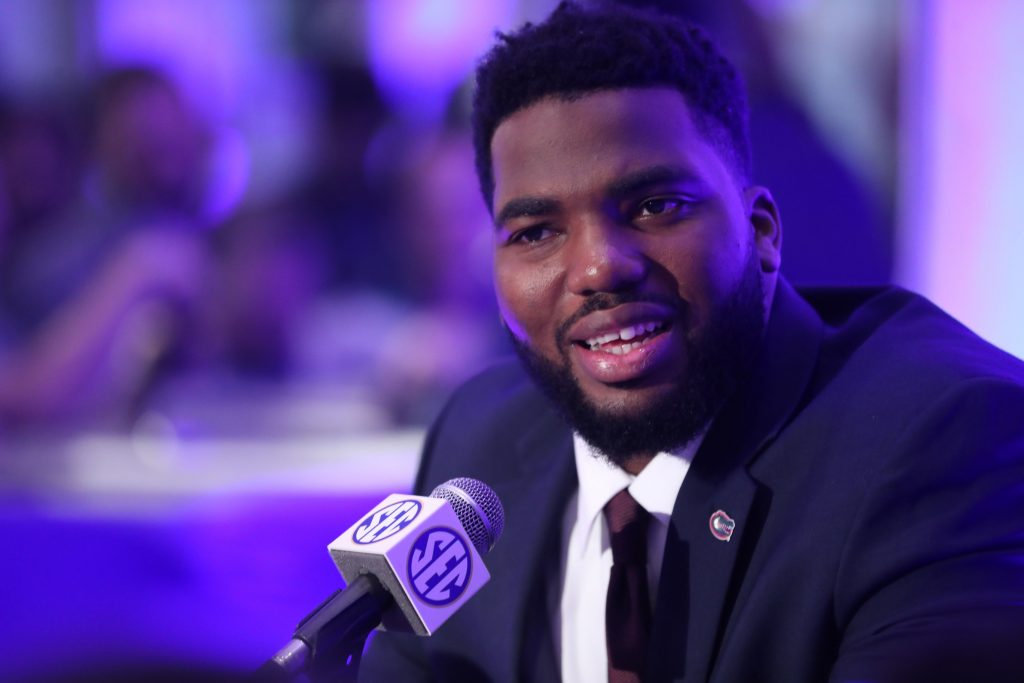 Four different schools were featured in Day 2. Kirby Smart of Georgia, Derek Mason of Vanderbilt and Dan Mullen of Mississippi State. The Florida Gators' Jim McElwain finished the day off with comments on his team, accompanied by his witty and sly remarks per usual.
It may have been Day 2 of Media Days, but it's year three for Gators' head coach Jim McElwain. He was prompted with questions from the media on topics regarding graduate transfer quarterback Malik Zaire, the refueled LSU rivalry, and the status of wide-receiver Antonio Callaway. Florida players Duke Dawson, Marcell Harris and Martez Ivey made the trip with "Coach Mac" to Hoover and help represent the Florida Gators.
But there's a catch—Literally.
As expected, McElwain was not let off the hook about the controversial shark photo. He reeled in the media with his much anticipated response.
"Going into year three, I'm really excited—not only about our team, but more so about our organization."
LSU Rivalry/Homecoming Response:
"I think first and foremost, rivalries are what makes college football as awesome as it is. For us at the University of Florida, here's the great thing, we've got a bunch of rivalries. Each week you go out there you get an opportunity. Whether it be them, whether it be FSU, Georgia or Tennessee, you name it, it's one of those deals, that's why you come to Florida, to play in big ball games and great rivalries."
"Here's what I love about this. I get off the plane, having been gone for a week and you know kind of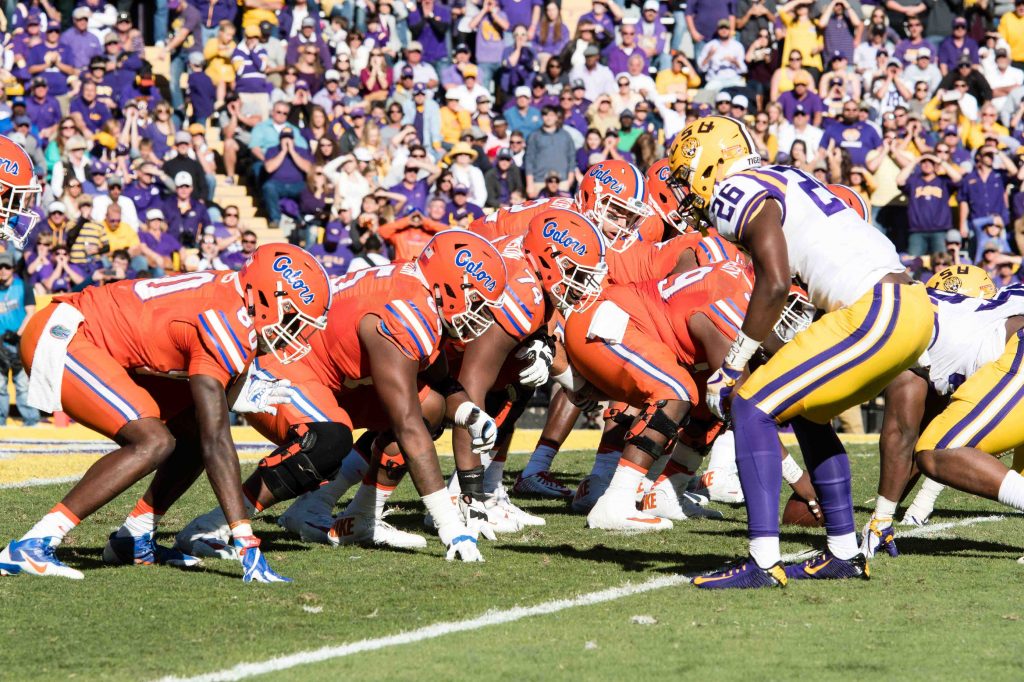 focusing on the future and actually reflecting on the past a little bit as I do every year when I'm up in Montana. Believe it or not, unlike maybe Coach Saban at Alabama, I have no choice in it. OK, it's a university choice. So they didn't tell me until I got off the plane and somebody said, 'Hey, guess who your homecoming game is.' First I heard about it..' … I'm good with whatever game it is. … I've heard about this all day long and I'm loving the fact that you think it's news."
It was announced last week Florida will face LSU on October 7th, in Gainesville for the Gators' Homecoming. As if there was not already enough hype around these two teams with the ongoing debate on who is the real "DBU" or the controversial game cancellation, last season, due to weather inclement weather—it just got more real with this season's match-up falling on Florida's Homecoming.
Quarterback Competition Response:
"It's one of those situations where it doesn't matter the position group, we're always looking to add to everything that we do and create competition. And ultimately it doesn't matter what profession you're in, true competition is something that really breeds excellence. I'm excited about having [Malik Zaire] in there. We're now up to finally our number and scholarship count that we want to be in the quarterback room. We've got some real options there and that's a good thing. And yet, he's a guy that can light up the room with the smile, he's excited to be there, he's excited to compete and we're looking forward to seeing what happens this fall."
This Year's Team Response:
"I think time will tell. Each team kind of creates their own identity. You're never what you were a year ago and you're never going to be staying the same. One thing I do know is you're either getting better or you're getting worse. You never stay the same. With these guys, it's a different team. Our strengths are going to be in some different areas they maybe hasn't been since we've been here. … We've got some good young players that are going to have to grow up awfully quickly. With that, you know what, this is a pretty darn good team and I'm excited to see what they do this fall."
Season Opener vs. Michigan Response:
"We're the University for Florida, and college football fans, I think Gator fans in general, they deserve us to go out and play whoever we can to the best of our ability no matter where they're from. I think it's really good for college football that two different conferences are playing each other on opening day. It's something I agreed to, I wanted to do, it's something moving forward that we're looking to do in these neutral site games as well in the future. I just think it's the way it should be. I don't know, maybe I'm screwed up, I guess."
Florida faces Michigan on September 2nd, in Dallas Texas, at AT&T Stadium.
Antonio Callaway Status Response: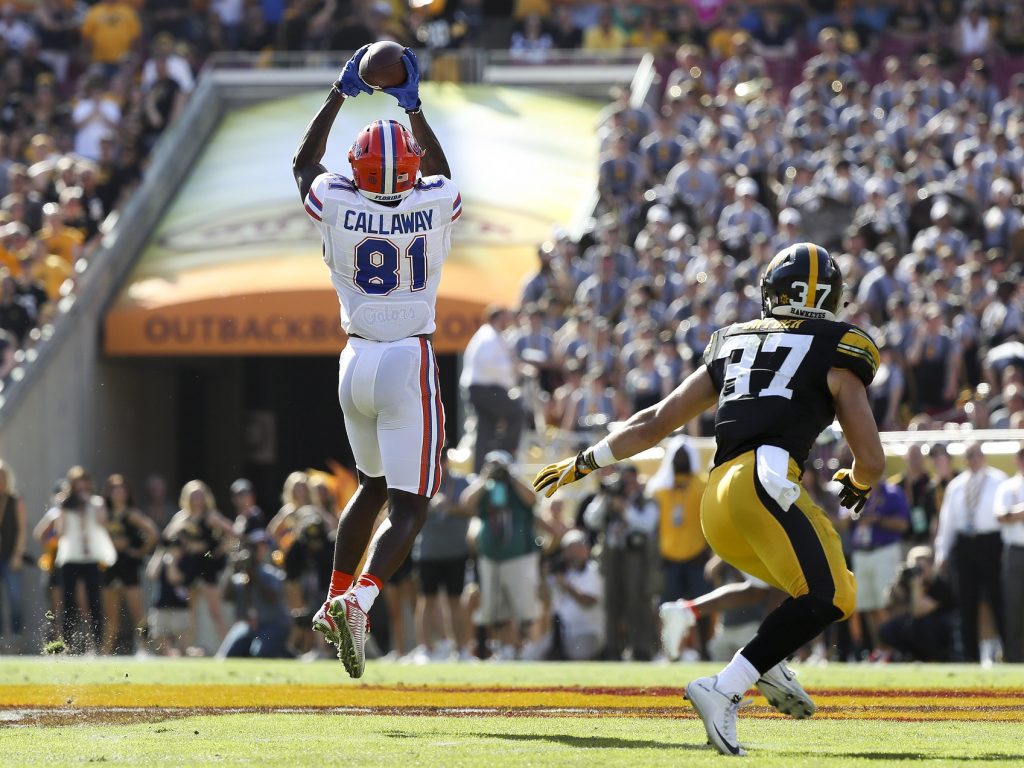 "He's going through some things right now and obviously been handling it well, so we'll continue to see as that goes. But he's a talented young man and he's really a good person. He's a guy that is fun to watch practice. I've been around some really good players, and I don't want to put him in these categories, but these guys that have been successful … a guy that I coached at Louisville, Deion Branch, who practiced every day like it was a game. Julio Jones when he was at Alabama, I mean as soon as you walked through the gate it was on. Antonio is one of those guys. He just loves to play the game."
Shark Photo Response:
"I love the humor in it, all right, and yet what it did to not only attack the university but attack my family when you know it's not you. I bust chops with the best of them now, and yet when it got personal …"