Both Kansas State and Vanderbilt handled their first two opponents with ease, but week three will present a challenge for both teams. The Wildcats (2-0) come in ranked No. 18 in the AP Top 25 and Coaches polls and will take a trip to Nashville to face the unranked, but undefeated Commodores. With both sides off to a quick start, this weekend looks to be an important one in gaining some momentum.
After putting up 55 points in their first two games, the Bill Snyder-led Wildcats are rolling offensively. However, Kansas State will face a more stout defense this Saturday. Thus far, the Commodores have allowed an average of 3.0 points per game, after giving up 215 and 100 total yards against Middle Tennessee and Alabama A&M, respectively. On the flip side, Vanderbilt has averaged 386.5 yards over the first two games.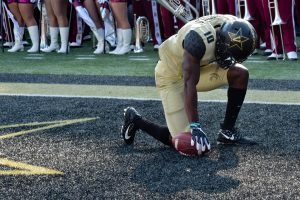 Vanderbilt Improving
Vanderbilt head coach Derek Mason talked about his team's performance over the first two weeks, noting improvement in all phases of the game. In his fourth season with the program, Mason singled out improvements on offense and special teams. Mason said they have the opportunity to be "tested like no other."
The Commodores have yet to face a ranked opponent this season, and the Wildcats are their first.
Facing an Explosive Kansas State Offense
As Vanderbilt prepares to face an offense that has put up two 50-point performances in their first two games, Mason acknowledged the threat Kansas State poses. Mason explained his team will have to figure out how to stop dual-threat quarterback Jesse Ertz and his offensive weapons.
Mason also called the Wildcats "balanced" and "dynamic", saying that Vanderbilt will have to choose whether to take away the run or the pass, presenting a challenge for his defense to overcome.
On facing a Bill Snyder coached team, Mason said his team will have to limit their mistakes and come prepared for physicality in all phases of the game.
QB Kyle Shurmur's Offense
After starting the season with two solid performances, junior quarterback Kyle Shurmur will look to build on his seven touchdowns and 217.2 passer rating. In his first two games this season, Shurmur has thrown for 498 yards, while completing 76.1 percent of his passes. With no interceptions to his name, Mason said Shurmur isn't trying to force plays and is being aggressive when needed.
Shurmur's Commodores will face Ertz, who has four touchdowns and 511 yards with zero interceptions this season. He'll have several weapons to work with, including receivers Isaiah Harris and Byron Pringle, who is probable for Saturday. We'll see which team continues to stay hot.
Kickoff in Nashville is set for 7:30 p.m. on ESPNU.