The Arizona Cardinals are hopeful that they've found their running back till David Johnson returns from injury.
Yesterday, the New Orleans Saints and the Cardinals agreed to a deal that sent Adrian Peterson to Arizona for a conditional sixth round pick. In order to clear a spot for the seven time pro-bowler, the Cardinals released veteran Chris Johnson.
Short Stint in NOLA
The Saints signed Peterson to a two-year seven million dollar deal in April. From the start, signs started to show that Peterson wasn't the best fit on the team. In his four games with New Orleans, the veteran running back rushed for 81 yards on 27 carries. His longest run of the season was 11 yards.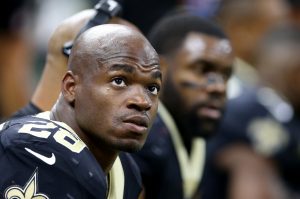 Peterson was not able to flourish with running backs Mark Ingram and Alvin Kamara crowding the backfield. Both Ingram and Kamara have a combined three touchdowns while Peterson has yet to find pay dirt in 2017.
Fresh Start in Arizona
Unlike in his time with the Saints, Peterson will have a larger role within the Arizona offense. The Cardinals running attack has been stuck in neutral ever since David Johnson went out with a fractured wrist in week one.
While some may be afraid that the former MVP is past his prime, Arizona head coach Bruce Arians believes the 32-year-old running back will be successful because they run the same offense as the Minnesota Vikings.
The Cardinals promptly cut veteran running back Chris Johnson after receiving Peterson from the Saints. Johnson averaged 2.5 yards on 45 rushing attempts. According to Arians, Arizona had been talking for weeks about getting a new running back.
The addition of Peterson brings things full circle for Arizona. The Cardinals famously passed on the future hall-of-famer with the fifth pick in the 2007 draft for tackle Levi Brown. Brown lasted five seasons with the Cardinals while Peterson went on to rush for 11,745 yards for Minnesota.
Milestone watch
Now in his new role with Arizona, Peterson has a better shot at reaching some impressive milestones. The running back needs 485 yards to become number 10 on the NFL's all-time rushers list. If he reaches the end zone three times this season, Peterson will become the ninth person in NFL history to have 100 career touchdowns.