This Saturday, Ole Miss will go up against Vanderbilt. Both teams are looking to end their three game losing streaks, but we will have to see which one will come out on top.
Vanderbilt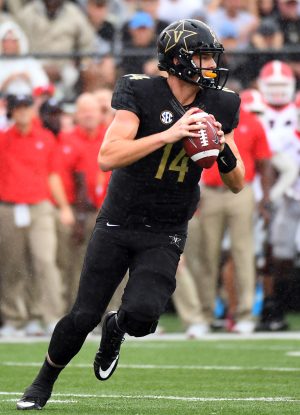 Vanderbilt is 3-3 so far for this season.  They started out strong with three straight wins against Middle Tennessee State, Alabama A&M, and Kansas State, but had three hard losses against Alabama, Florida and Georgia.
The Commodores won 38-17 last season against Ole Miss, so we will see if they can use last year's win as a confidence boost for this weekend's game. Currently, they are ranked last in the SEC for scoring offense.
In the beginning of the season, Vanderbilt was viewed as a potential Top-25 team. If they win this game, they could gain the momentum needed to finish the rest of the season with wins.
Ole Miss
This season, the Rebels started out with two wins, similar to Vanderbilt's start. After defeating South Alabama and UT Martin, they began their three game losing streak.  California, Alabama, and Auburn all beat the Rebels.
Ole Miss has a self-imposed postseason ban anyway, so although they want to do their best – there is no season for them past their final game on Thanksgiving. The post season ban is due to 21 allegations against their football program.
The team is also suffering due to the abrupt firing of former head coach Hugh Freeze. As of right now, Matt Luke is filling in as the interim head coach until the team hires a permanent coach to fill the position.
Players to Watch
Both teams are looking to their quarterbacks for the support they need to win the game. Rebel quarterback Shea Patterson earned his first year of experience last season and is looking to lead his team successfully for the second year in a row.
As for Vanderbilt, Quarterback Kyle Shurmur has elevated his game since last season. He has completed 57% of his passes and thrown only one interception.
Where and When to Watch
Date: Saturday, October 14, 2017
Time: 3:30 p.m.
Location: Oxford, MS
Venue: Vaught-Hemingway Stadium
TV: SEC Network