The Los Angeles Dodgers clicked on all cylinders once again in Game 3, and kept their perfect playoff run alive.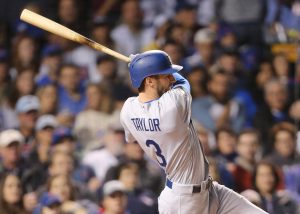 The most recent hero to step up for L.A. was centerfielder Chris Taylor. Tuesday against the Cubs, Taylor hit a solo homer and an RBI triple off starter Kyle Hendricks. This is the same Taylor who only had one home run in his 120 games prior to this season. The unlikely hero now has two long bombs in the NLCS. And, he has found this success amidst a change in his swing.
The Dodgers improved to 6-0 in the 2017 playoffs, which is the longest postseason win streak in the franchise's storied history. So, if they can keep the streak alive tonight, they will win their first pennant in 29 years.
Comeback Cubs?
The Cubs certainly have an uphill battle if they want to come back in the series. In the first three games of the series, the Cubs offense has only accounted for four runs. Joe Maddon credits his team's offensive struggles to the Dodgers' pitching. On the flip side, the Cubs pitching has given up 15 runs to the Dodgers' powerhouse sluggers.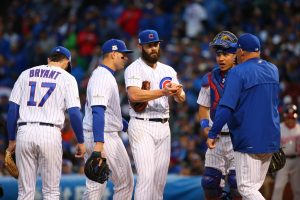 While Chicago does have recent experience coming back from series deficits, this one seems to be all but wrapped up. But, Cubs fans will say that critics said the same thing during last year's World Series and they know it only takes one win to put some pressure on the opposition. However, any come back in the NLCS might fall short without the city's dire need to end the curse driving the team.
Game 4 Preview
The possible pennant-clinching game will be played tonight in Chicago at 9. Each team will have their ace on the mound, Alex Wood for L.A. and Jake Arrieta for the Cubs. Chicago will look to get to Wood early, in an attempt to score more than two runs for the first time this series. The Dodgers will likely keep the same game plan, after all they are undefeated in the postseason.