With the Miami Dolphins starting quarterback Jay Cutler sidelined for Thursday night's game against the Baltimore Ravens after suffering multiple cracked ribs on Sunday, backup Matt Moore will likely make his first start of the season.
Coming Off the Bench
Moore took over for the injured Cutler during the third quarter and led the Dolphins to a 31-28 come-from-behind win over the New York Jets on Sunday. Moore threw for 188 yards, two touchdowns and an interception. This came after Moore stated he did not take a single rep with the first team in practice last week, which only makes his performance more impressive.
Moore has a history of this type of performance. A similar scenario played out last season when Miami's starting quarterback Ryan Tannehill left a Week 14 game against the Arizona Cardinals due to a sprained left MCL and ACL. Moore led a game-winning field goal drive that included a 29-yard pass to wide receiver Kenny Stills. With Tannehill still injured, Moore became the starter for the following week, resulting in a victory over the Jets and Moore being named the AFC Offensive Player of the Week. These two wins helped the Dolphins secure a postseason spot for the first time since 2008.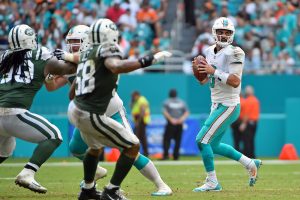 Providing a Spark
Moore is known throughout the locker room for bringing an electricity to the team whenever he enters the game.
"Matt just comes in with a different level. I don't know if (it is) energy or presence because he's a second quarterback, so he knows he has to bring that. I feel like he does a good job of getting everybody to where they need to go and getting a boost of confidence to everybody, just by how he is," offensive lineman Ja'Wuan James said.
Unlike on other teams where teammates can't always trust the backup quarterback because of lack of experience or preparation, the Dolphins' receiving corps have faith in Moore to do his job and give them an opportunity to make plays.
"Matt is a fiery guy. He loves to have fun. He has been doing this thing for a long time…We go out there and we have fun. We know he's going to be prepared to help us win the game," Stills said.
Moore's approach when coming into the game this past weekend was just to execute to the best of his ability and allow his teammates to make plays around him.
The intangible qualities seem to be there for Moore. For Thursday's game at Baltimore, the only question is whether he will be able to execute the game plan, and he has proven to have had success with that in the past.