Florida is on a three-year winning streak against Georgia; however, the Gators are 3-3 and the Bulldogs are dominating the SEC East with a perfect record.
This could be the year that Georgia wins and takes back the winning title.
Georgia's offense and strong freshman quarterback have been connecting throughout the entire season. This connection is bringing success to the Bulldogs.
Iron sharpens iron.#ATD / #KeepChopping pic.twitter.com/sIvNRfITbq

— Georgia Football (@FootballUGA) October 26, 2017
What is Different With This Georgia Team?
The offensive line worked all summer to make themselves dominant. So far this season, this offensive line has helped Nick Chubb run for 668 yards and helped Jacob Fromm pass for 1,162 yards.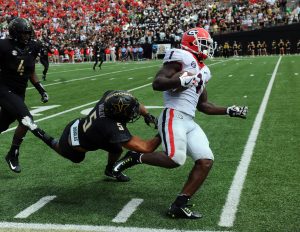 The offensive line isn't the only thing dominant about this team. Georgia has three running backs who have more than 300 rushing yards. They've each scored at least a touchdown.
All of the offense is working together and they're getting the results they want – a 7-0 record and first in the SEC East.
The seniors are a playing a large part in the team's overall positive attitude.
Head Coach Kirby Smart says his team is unselfish.
Georgia's success this season can be seen in their scores:
vs. Appalachian State 31-10
 vs. Notre Dame 20-19
 vs. Samford 42-14
 vs. Mississippi State 31-3
 vs. Tennessee 41-0
 vs. Vanderbilt 45-14
 vs. Missouri 53-28
Freshman quarterback Jake Fromm is leading this team and stepping up as quarterback.
When the defense is pressuring him, Fromm focuses down the field to make sure he can connect with his receivers.  The team follows Fromm because he's all about winning.  He does not care how many yards are thrown or run, Fromm focuses on winning the game.
How the Bulldogs Can Stop the Gators
If Georgia can stop the running game, the Gators will struggle offensively.  Florida struggled early in the year scoring offensive touchdowns. They got better throughout the year, but the run game is the Gators go to.
Keeping a winning mindset and not thinking about the past three match ups between these two teams will help carry the Bulldogs to victory.
The History of This Rivalry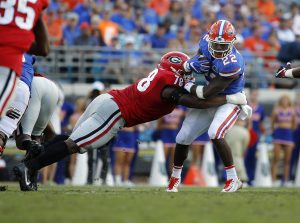 The past three years have been Gator victories in this match up.  In 2014, Georgia was favored to win, but sadly fell short.  But, before that year, Georgia won back-to-back-to-back.
It's likely that the Bulldogs will win on Saturday, opening up the possibility to again have back-to-back wins against Florida.