Mike White and Chris Chiozza spoke to the media on Wednesday about a myriad of topics ranging from the 1-and-Done rule to pre-season rankings. Florida was also ranked 8th in the first AP Poll of the season. It marks the 12th time since the 1999-2000 season that the Gators have opened up the season ranked in the top ten.
Thursday's Projected Starters vs. Jacksonville
1. Chris Chiozza
2. KeVaughn Allen
3. Egor Koulechov
4. Keith Stone
5. Kevarrius Hayes
https://twitter.com/GatorsMBK/status/925697894702821376
Injury Update
Dontay Bassett- Been fully healthy now for a couple of weeks and will be good to go for the start of the season.
Gorjok Gak- Gak is still limited in practice, but is showing signs of getting stronger and more confident. It hasn't been announced whether Gak will play or not on Thursday.
Chase Johnson- Has been out for 10+ days now with a concussion and is still in concussion protocol. Johnson will not be available for Thursday's game.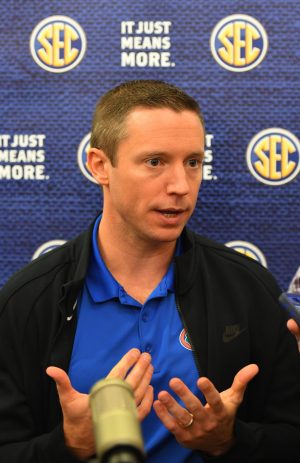 Mike White
While the projected starters were listed in the media notes for Thursday's game vs. Jacksonville, Mike White said to not put a lot of stock into it.
Mike White said his team needs to improve their transition defense, ball-screen defense, half-court defense and defensive rebounding.
White noted that he doesn't put much into pre-season and in-season rankings. Said there's no need to put more external pressure on the team when there's already enough internal pressure from his staff and personnel.
White said that he's going to try and play as many guys as possible on Thursday vs. Jacksonville in an attempt to get his players familiar with an away game situation.
White said on Wednesday that he doesn't believe that his team is a Top 10, Top 25 or even Top 50 team. He also added that last year's team in February would beat this current team by 30 points.
White said that Egbunu, despite being injured, has definitely been vocal in the locker.
White said that Deaundrae Ballard, despite the pre-season praise, needs to make the transition from "small high school ball in Atlanta to the SEC." He also noted that Ballard needs to pick his spots and find great shots.
White when asked about the 1-and-done rule said that he couldn't give an educated opinion either way. He then said that since he's not a part of the decision making, he doesn't read too much into it.
White said that he needs his team to show stronger mental toughness throughout practice and that certain players need to step up as leaders and be more vocal.
White, once again, said that Jalen Hudson's offense is clearly there, but that his commitment on defense still needs to improve. In my opinion, this is why Hudson will have a hard time cracking the starting lineup.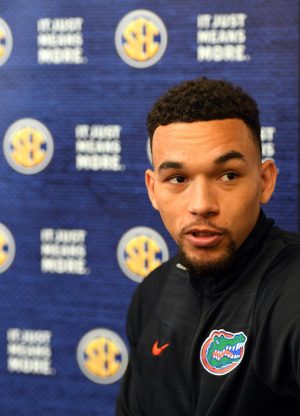 Chris Chiozza
Chiozza said that improving defensively is a matter of wanting it. He added that "the team has the talent and the right pieces to be a great defensive team just like we were last year. We've just got to want to do it."
Chiozza added that he doesn't put any thought into polls and rankings since his team was ranked 7th in the country his freshman year and finished with a losing record. Chiozza called it the "worst year of basketball in my life."
Chiozza said that a lot of the breakdowns on defense in practice have been mental mistakes.
Gator Bites
Chris Chiozza on his team's defensive breakdowns in practice.
Chris Chiozza on the Gators turning into a better defensive team.
Chris Chiozza on the first AP Poll of the season
Chris Chiozza on calming the freshman on the team down over the first AP Poll.
Mike White on the team's "secret" FGCU scrimmage.
Mike White on pre-season rankings and the first AP Poll of the season.
Mike White on Deaundrae Ballard and his development.
Mike White on who will play vs. Jacksonville.
More Mike White on the first AP Poll.