The SEC coaching carousel is in full swing with the regular season all but over. We've seen Florida sign Dan Mullen and Mississippi State name Joe Moorhead as their next head coach, but Texas A&M and Tennessee are still searching for their new head man.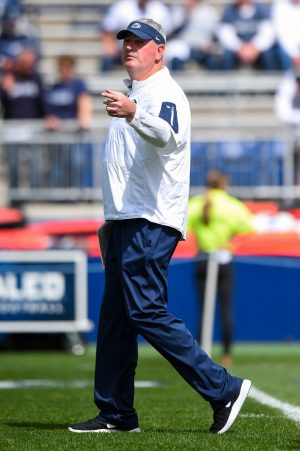 The Joe Moorhead Era
The past week in Starkville has been quite uneasy for Hail State faithful. Mississippi State lost head coach Dan Mullen to Florida, along with a few recruits, and had to quickly scramble to assemble a search committee. Mullen was the Bulldog's head coach from 2009 to 2017, finishing his career at MSU with a 69-46 record, going 5-2 in bowl games.
With Mullen gone, Mississippi State quickly named Joe Moorhead as their next head coach in an effort not to miss out on the early signing period (recruiting). Moorhead was previously the offensive coordinator at Penn State from 2016 to 2017 and was the head coach at Fordham University before that from 2012 to 2015.
Mississippi State has announced that Joe Moorhead will hold his introductory press conference on Thursday at 11 a.m. ET. Moorhead is the 33rd coach in Mississippi State history.
In a press release announcing the hire, Penn State head coach James Franklin said, ""We couldn't be happier for Joe Moorhead and his family. This is a tremendous opportunity for him to return to being a head coach and continue to move forward in his career. We are so appreciative of everything that he has done for Penn State Football in his two years."
#MissState got a brilliant head coach in #PennState's Joe Moorhead. #MSU fans, want to know more about him? Read this: https://t.co/dg9PLNiXBS

— Bruce Feldman (@BruceFeldmanCFB) November 29, 2017
The Schiano Situation
The Volunteers had named Greg Schiano as their next head coach on Sunday morning and then decided to un-name him head coach just a few hours later in a bizarre turn of events. A report came out on Sunday afternoon that former Penn State assistant coach Mike McQueary said that he had heard Schiano, who was then an assistant for PSU, had witnessed Jerry Sandusky "doing something" to a minor in a Penn State shower. While prosecutors determined that there was no reason to pursue Schiano, the outrage continued in Knoxville.
On Sunday night, it was reported that the deal with Schiano had stalled and that Tennessee was continuing their head coaching search. The odd series of events were confusing to both Volunteer fans and college football fans alike.
The Greg Schiano to Tennessee deal is dead. Following a public outcry among fans and state politicians, Tennessee backed out of a memorandum of understanding with Schiano that had been signed earlier in the day by both parties.

— Chris Low (@ClowESPN) November 27, 2017
The Search Continues In Knoxville
On Wednesday morning, ESPN's Chris Low reported that Tennessee had turned their focus to Jeff Brohm, Purdue's current head coach. Brohm has been with the Boilermakers for just one season, leading the team to a 6-6 record.
While other names such as Lane Kiffin have surfaced as possible options, nothing has yet been confirmed. ESPN has also reported that Tennessee has reached out to Auburn defensive coordinator Kevin Steele and SMU head coach Chad Morris. Oklahoma State head coach Mike Gundy reportedly turned down a $42 million contract to become the next Tennessee head coach.
As Tennessee again finds itself engulfed in flames, Lane Kiffin waits by his phone Not waiting at all! Getting this team ready to win its 9th straight against a great north Texas team. Come to the championship here in Boca Dennis at #thefaU @espn https://t.co/GJ83xJqejm

— Lane Kiffin (@Lane_Kiffin) November 27, 2017
If Tee Martin is getting knocked for being unproven, PLEASE tell me how Kevin Steele, who went 9-36 as Baylor's head coach, is better?

— Charlie Burris (@Charlie_Burris) November 29, 2017
Contrary to reports, #SMU coach Chad Morris is not expected to interview tomorrow with #Tennessee, source tells me.

— Bruce Feldman (@BruceFeldmanCFB) November 29, 2017