Sean Flood: His Beginning
Sean Flood and his family are from Dublin, Ireland. Soccer reigns supreme as the main sport in Europe and as a child, Sean played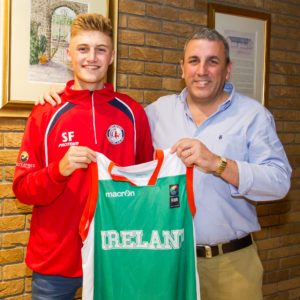 both basketball and soccer. Sean's mother, Margaret, played basketball herself and pushed Sean from a young age to play the sport. Starting at the age of four or five, Sean grew up with a basketball in his hands.
At 15-years-old Sean made the decision to commit himself to the sport of basketball. The rest is history. Sean stouts an epic track record from Ireland. He played on the U16, U18, U20 Irish National Teams.
He's left a huge impact on the Templeogue Basketball Club and gained irreplaceable experience playing on the National Team. Of the notable names that shaped Sean into the player he is now was Puff Summers. Summers was an American basketball player at Davidson College. Summers made his way to Ireland as a professional player. He now coaches youth teams and runs basketball camps in Ireland. Flood says Summers gave him insight into the American brand of basketball which helped him transition overseas.
America is the mecca for basketball. Flood knew he would have to take his skills overseas if he wanted to make a career out of playing ball. Originally shooting for a major NCAA college he transferred his credits over to the US and landed himself in Santa Fe. One of the hardest moments in Sean's career was leaving his family behind. However, Flood knew his passion was basketball and wouldn't settle for anything less. Now starting for the Saints, Sean is looking to progress his career and cement himself as a high caliber college athlete. This is the ideal story of a player that has endless talent and a tireless work ethic; someone who just needs a basketball and an opportunity to really explode into the limelight.
During an interview Flood depicted his experience with the Irish national team.
Santa Fe Career
In his first year in the states, Sean spent a majority of the time adjusting to the different style of play. He expanded on the difference in play style from Europe to the US. Here in the United States players are much more run and jump, playing athletically and exploiting opponents with explosiveness. The European play being more fundamental makes for more ball movement and passing into screens and pick and roll play.
Now in his second year at Santa Fe, he has carved out a starting role on the team and finding much more playing time. He gives credit to the assistant coaches from his freshman year. He said the assistant coaches helped him on a personal level and helped him through things in life as well as basketball. Right now Flood is averaging 7.7 points per game and 2.4 assists with under 1 turnover per game. Flood shoots 90% from the free throw line and 52% from the floor. His stats prove himself as a prominent floor general.
SF men's basketball defeats Atlanta Metro 76-66 behind 20 points from @GuapoBean and 16 from @SeanFlood11. Saints are now 4-1. #SicEmSaints pic.twitter.com/3IuviMc2lr

— Santa Fe Saints (@SF_Athletics) November 11, 2017
Flood's second year as at Santa Fe comes to a close this spring. As his career with the Saints wraps up he's looking to find a major college basketball program that will pick him up. Flood has no desired location, he just wants an opportunity to play. After college, he intends on playing professionally. One of the main reasons he came to the US is to play against better competition. Flood says his skill level will be much better now than if he stayed in Ireland. Looking for a big college program, Flood has the work ethic and vision to make it happen. However, anyone that strives for success can't forget where they came from. He described his experience at Santa Fe and how it has developed over the course of two years.
Interview and more
For the full unedited interview with Sean Flood, watch below