PK Yonge and Eastside's boys basketball teams entered this match up flying high. Both the Eastside Rams (16-4) and the PK Yonge Blue Wave (10-10) came into this game riding three-game winning streaks. For Eastside, its streak solidified what had already been a fantastic season. For the Blue Wave, their streak propelled them to .500 for the first time since late December.
Rams dominate first half
The first and second quarters belonged to the Rams. PK Yonge was ahead once in the first quarter when Israel Wilcox scored from beyond the arc to make it 3-2 for the Blue Wave. After the game was tied at 6, Eastside took full control, going on an 8-0 run to get ahead 14-6. A free throw and a two-point basket scored by PK Yonge made it 14-9 to end the first quarter.
In the second quarter, Jimmy Johnson, Eastside's leading scorer, opened up with a three-point basket to put the Rams up 17-9. PK Yonge continued to keep the game close when Danny Dawson and Wilcox both scored to make the game 17-13. Eastside eventually raced out to a 25-15 lead to end the first half.
Kofi Asare gets the layup for Eastside pic.twitter.com/5oTfy5He1s

— David Street (@dstreet177) January 28, 2018
Blue Wave play better in the second half
After the Rams took a 30-17 lead in the game, the Blue Wave flexed their muscles, going on a 16-2 run to take a 33-32 lead. It would be PK Yonge's first lead since being up 3-2 in the first quarter. The game would continue to be back and forth in the fourth quarter.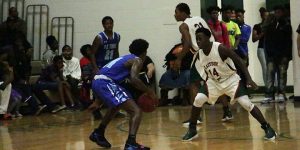 The Blue Wave went up 39-34 in the fourth quarter. It would be their largest lead of the game. Eastside assistant coach Vernard West thought the PK Yonge had some calls go its way.
"They got a couple calls in the second half that gave them a little edge," West said.
Just when it seemed like all hope was lost for the Rams, Johnson came to the rescue. The senior guard was sent to the line five straight times and made all five free throw attempts to tie the game at 39. The Blue Wave then went up 41-39, but it was all Eastside after that as the Rams closed the game on a 7-0 run to clinch the victory 46-41.
What this means for both teams
For Eastside, this win was unique in its winning streak. While the first three games of the streak were dominant for the Rams, they were tested here. However, they proved they could handle anything that's thrown at them. Winning these close battles will be key for them in postseason play. This season for them has been huge as they were just .500 last season. Growth and maturity have been a big reason for the Rams' success, according to Eastside athletic director Philip Crutchfield.
"These guys have been playing together for a long time," Crutchfield said. "They actually got an opportunity to start fairly young, so they've grown up."
For PK Yonge, this loss puts them right at .500. The Blue Wave, who finished last season at 19-8, have taken a step back this season, already having more losses. But they're capable of making runs. Consistency will be key for them down the stretch.
Individual performances
For Eastside, Johnson and Malik Robertson both led the way with 12 points each. Wilcox led all Blue Wave scorers with 11 points.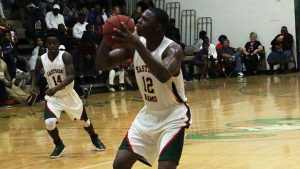 Interview with the winning coach
After the game, Eastside head coach Herman "Pop" Williams gave his thoughts on what the keys to his team's victory were, the play of Jimmy Johnson and how they'll prepare for their next opponent Williston.
What's next?
Eastside will travel to Williston Tuesday to take on the Red Devils at 7:30. Williston is struggling this season with a 6-13 record. PK Yonge will travel to St. Francis Catholic Tuesday to take on the Wolves at 7:30. St. Francis Catholic is one game above .500 at 11-10.