After a short head-coaching career, Doug Pederson has already made it to the top. His Philadelphia Eagles are taking on the New England Patriots in Super Bowl LII on Sunday.
Playing Career
Although his success as a head coach has come quickly, Pederson hasn't always had it easy. As a player, Pederson was often the backup quarterback to the likes of Dan Marino and Brett Favre.
When he was given his opportunity as the starting quarterback for the Eagles, Donovan McNabb was drafted and took his place. Pederson quickly learned what it meant to be part of something bigger.
In 100 career games in the NFL, of which he started only 17, Pederson had a 3-14 record. He threw 12 touchdowns and 19 interceptions.
Doug Pederson knows what it's like to go through struggles. However, he also knows how to support a winning team; Pederson was part of the 1997 Packers team that won Super Bowl XXXI. Now, he's looking to join a short list of people to win the Super Bowl as a player and head coach.
Coaching history
Offensive Coordinator at Kansas City
Pederson's first coaching role in the NFL was with Kansas City as an offensive coordinator. Over his three seasons with the Chiefs, from 2013 to 2015, the Chiefs held a record of 31-17. In the postseason, the Chiefs won one and lost two.
Head Coach at Philadelphia
Much like the majority of his playing career, Pederson struggled in his first season as an NFL head coach. He led the Eagles to a 7-9 record, coming in last in the NFC East.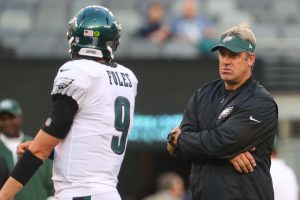 However, this season has been completely different. While Pederson and the Eagles had a rough start to the season, losing 6-0 to the Cowboys in Week 1, they would go on to win nine consecutive games.
In the NFC Divisional Round of the Playoffs, the Eagles crept by the Falcons 15-10. Against the Vikings, however, the Eagles spread their wings and dominated Minnesota, winning 38-7.
The Big Game
Coming off of the thrashing of Minnesota, Pederson doesn't plan on slowing down.
Many people would expect a fairly new head coach to play it safe in the biggest game of his life. Not Pederson. He's proven doubters wrong all year, and continues do so now with his second-string quarterback Nick Foles at the helm. Now, he plans on doing it again against one of the best quarterback-coach combinations in NFL history.
Super Bowl LII will kick off at 6:30 p.m. on Sunday. Tune in to ESPN 98.1 FM – 850 AM WRUF at 2 p.m. for coverage of the game.