There is no higher peak than Super Bowl champion for a football player who was on the verge of hanging up his cleats just a couple years ago. Nick Foles, who has now experienced the lowest of lows and the highest of highs, knows just that.
The Underdog
Throughout his entire NFL career, Foles has been forced to fight for his spot on the field. After spending years in the league as backup, and even contemplating walking away from football following his 2015 release from the St. Louis Rams, Foles was forced to prove he deserved to be on the field once again in Super Bowl LII.
Once the Philadelphia Eagles' starting quarterback, Carson Wentz, went down with a torn ACL in Week 14, not many people thought the team would be able to continue its winning ways with backup Foles at the helm.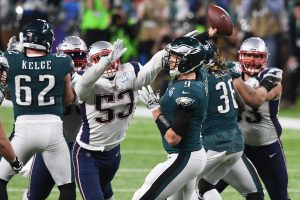 Much to the surprise of his skeptics, Foles led Philadelphia to a 3-1 record down the stretch. When the playoffs began, he proceeded to take down the Falcons in the Divisional Round, the Vikings in the Conference Championship, and finally the highly touted Patriots in the Super Bowl.
During the championship game, Foles threw for 373 yards and had 3 touchdown passes. He also had one touchdown catch that played a key role in the game. For his efforts, Foles was named the Super Bowl MVP.
Foles recognizes this incredible achievement and knows everyone in their locker room contributed to the Super Bowl victory. "No matter what happened, we just kept sticking together, kept leaning on each other," Foles said.
What a night! I love this team and this city. Thank you Philly for showing up loud and proud. Your energy powered us through the night. #FlyEaglesFly

— Nick Foles (@NFoles_9) January 22, 2018
The Struggle
While Foles is riding high right now, it wasn't always smooth sailing for him throughout his career.
After his first stint with the Eagles, Foles was traded to the Rams in 2015 and led the team to a sub-par 7-9 record. The Rams went on to draft quarterback Jared Goff with the first pick in the 2016 draft, leading to Foles' eventual release.
Foles then signed a one-year deal with the Kansas City Chiefs as backup to Alex Smith. He then won the first game he started that season, but Smith was back at quarterback the following week. Foles became a free agent at the end of the season.
He began his second stint with the Eagles at the start of 2017 as backup to Wentz and patiently waited his turn until Week 14.
Foles is an extremely faith-driven person and credits all his success to God. "I wouldn't be here without God in my life…that's just been my rock and my family," Foles said.