As the 2018 Winter Olympics head into their second weekend, let's recap Team USA's performance thus far and what's on the schedule today.
Performance in Pyeongchang
Currently, Team USA has eight medals in all, which puts them at number five in the Medal Race. They are behind Norway (19), Germany (15), Netherlands (13) and Canada (13). Of the eight medals, Team USA has five gold, one silver, and two bronze.
Who Won What?
Team USA swept both snowboard slopestyle and the snowboard halfpipe. 17-year-old Red Gerard got the United States' first gold medal of the 2018 Olympics in the men's snowboard slopestyle, while Jamie Anderson grabbed the gold for the women's snowboard slopestyle.
But Gerard was not the only 17-year-old who dominated. Chloe Kim is the youngest woman to win an Olympic snowboarding gold medal at the Winter Olympics and took home the medal for the women's snowboard halfpipe.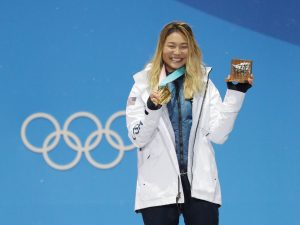 As reported by Fox News, Kim was able to celebrate her Olympic victory with her family, and her South Korean grandmother. According to the report, Kim's parents emigrated to America from South Korea.
And "The Flying Tomato" did it again collecting his third career gold medal this week in the men's snowboard halfpipe. 31-year-old Shaun White made history making him the first American male to win a gold medal in three different Winter Games, Turin (2006) and Vancouver (2010).

Mandatory Credit: Kyle Terada-USA TODAY Sports
The fifth goal medal belongs to Mikaela Shiffrin who earned her medal in the woman's giant slalom. This is her second career gold medal, with the first being won in the 2014 Sochi Olympics.
Other medalists: Chris Mazdzer, men's luge (silver), Arielle Gold, women's snowboard halfpipe (bronze), and Team USA Figure Skating (bronze). Adam Rippon and Mirai Nagasu won the bronze medal for the U.S. in Team Figure Skating. It is also worth noting that Nagasu became the first American woman to land a triple axel in the Olympics.
Last night was a dream that became a reality. @MaiaShibutani and I have worked so hard for this! Proud to be the first ice dance team of Asian descent to win a medal at the @olympics. (THREAD) pic.twitter.com/XPcjE3sX18

— Alex Shibutani (@AlexShibutani) February 13, 2018
What's Next for Team USA
Team USA men's hockey defeated Slovakia last night 2-1 and their next game will be Saturday against the Olympic Athletes of Russia at 9:10 p.m.
Figure Skating (Men's gold medal final): Americans Nathan Chen and Adam Rippon will compete for their first individual medals tonight.
Women's Alpine Skiing (Super G gold medal final): Earlier this week, American Mikaela Shiffrin pulled out of the competition. However, this will be the first event veteran Lindsey Vonn competes in. In 2010, Vonn won the bronze medal for this event.
Women's Freestyle Skiing (aerials gold medal final): 22-year-olds Kiley McKinnon and Madison Olsen will compete for their first Olympic medal.
Women's Skeleton (competition): For Team USA, Katie Uhlaender and Kendall Wesenberg will compete and currently the U.S. has the most Olympic skeleton medals than any other country.
These events will start airing live on NBC/NBCSN at 8 p.m. tonight.