The Rock starts off hot, then cools down
The Rock Lions basketball team defeated DME Sports Academy in a thrilling, back-and-forth double overtime game by a score of 85-82 at home in Gainesville, Florida. The game, which took place on Senior Night, looked like it was going to be put out of reach in The Rock's favor as it started off the game up 23-12. Junior guard Trey McCray opened up the scoring with a three-point shot while Jaden Campbell, a 6-foot-4-inch junior guard, led all Lions scorers with five points during that sequence.
However, DME flexed its muscles and closed the half on a 19-6 run. Madiaw Niang, a senior forward from Senegal, Africa, opened up the run with two free throws. Vadim Clanet, a junior forward from Chambery, France, led the way with six points during DME's run. The Rock would end the first half down 31-29.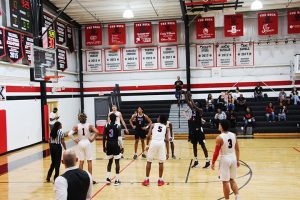 Both teams grind it out in the second half
In the second half, the Lions found themselves down 43-34. But they refused to give up and kept coming back. Junior guard Bryan Greenlee led all Lions scorers with 13 points in the second half. Both teams went into overtime tied at 60. In the first overtime period, DME sophomore guard Mayoum Mayoum opened up the scoring with five straight points. The Rock was down 73-70 in the closing seconds of the first overtime period. That was until Greenlee hit a dagger from beyond the arc to send his team into the second overtime period. Greenlee opened up the second overtime period with another three. He added one more point to lead his team to victory.
Individual Performances
Junior guard Bryan Greenlee, senior guard Antrell Charlton and junior guard Jaden Campbell were the three best players for The Rock.
https://twitter.com/rawerecruits/status/966315806798774273
Interview with the winning coach
After the game, The Rock head coach Justin Harden gave his thoughts on his team's gutsy win.
What's next?
            With the win, the Lions will move on to play in the Sunshine Independent Athletic Association (SIAA) State Tournament as the top seed in the North Division. That game starts Tuesday, Feb. 27. An opponent has not been decided yet.