This week, in the NCJAA Division I Baseball Poll, Santa Fe College is ranked number one in the nation. The Saints have enjoyed a 22-4 start to the season. Santa Fe will look to continue their remarkable season, even with some tough games up ahead.
A new No. 1! Santa Fe, winners of nine of its last 10 games takes over atop the @NJCAA DI baseball poll

Top 20: https://t.co/5C7e9zgshw pic.twitter.com/zaLtyaYAQI

— NJCAA (@NJCAA) March 13, 2018
Offensive and Defensive Balance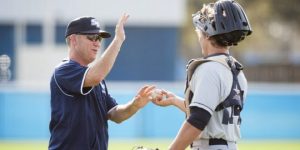 Santa Fe's success this season is seen through their balance between their offense and defense. Head Coach Johnny Wiggs knows that some days the team's defense will struggle, but so far, the offense has been there to win the game. Many of their results this season include high scoring wins, where Coach Wiggs has said that "the days [they] struggle on the mound, the offense picks [them] up." At the same time, the Saints are 9-1 in 1 run games. Meaning that they have been very good in finishing these close games.
Coach Wiggs believes that his team is finding ways to win regardless of how they're doing it. Part of this success comes from the team's depth. The team has no "high-draft pick" but according to Wiggs, they are "deep enough to be able to pitch in the bullpen." The middle of the order is swinging really well, and Wiggs notes that defensively they're really good up the middle of the field. But the key to this team has been their ability to remain concentrated throughout all 9 innings, despite any errors or struggles.
Outstanding Players
On the mound, the Saints are being led by sophomore pitcher Max McKinley. He has had back to back complete game shutouts, including Wednesday's 1-0 win over St. John's River State College. In that game, he pitched 88% first-pitch strikes (28/32) and almost 80% overall strikes for the entire game. The team's 2.71 ERA is the best in the state and their top 3 starting pitchers combine for a 1.90 ERA.
FINAL: SAINTS WIN! @NJCAA #1 SF ⚾️ defeats @SJR_BASEBALL 1-0 behind the 2nd straight complete game shutout from Max McKinley. McKinley struck out 10, walked 0, and scattered 4 singles. SF is now 23-4, 4-0 in the Mid-Florida Conference. @Brock_edge had the lone RBI #SicEmSaints pic.twitter.com/XoXYAZbWTS

— Santa Fe Saints (@SF_Athletics) March 14, 2018
On the other end, the offense is being led by freshman Andrew Eyster. Wiggs has praised Eyster, stating that he has the potential to be a one-year man for the Saints. So far this season, Eyster is hitting .404 with 8 doubles and 8 home runs. The teams batting average is .309 and they've recorded a total of 23 home runs this season – a high for them according to Wiggs.
Gainesville Community
Coach Wiggs believes that being a part of the Gainesville community has been beneficial to his team and over the past years. While much of the focus may be on the Florida Gators, Santa Fe has found some room in a town that knows a lot about successful athletics.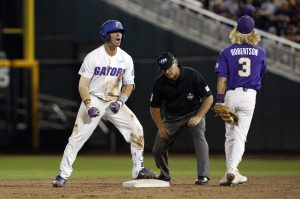 Wiggs and the Santa Fe Saints have also benefited in recruitment for their team. They get players from the Panhandle to South Florida. The connections he's gained in Gainesville and across Florida have been crucial in bringing success to this team.
In bringing these players, Wiggs has been able to help players succeed with the Saints and move on to other schools or professional leagues. Most notably, Wiggs coached current Florida OF/LHP Nick Horvath, for a year before he joined the Gators.
Up Next for Santa Fe
The Santa Fe Saints travel to Palatka, FL to take on St. John's River in the second of a three-game series tonight, Friday, March, 16 at 6:00 pm. They will be back in Gainesville on Saturday, March, 17 in the third game of the series at 1:00 pm.
In the upcoming weeks, they will face the College of Central Florida and no. 14 ranked Seminole State College of Florida.