Round 1 of the Masters took place on Thursday. The big storyline heading into the competition was the return of Tiger Woods, who hadn't competed in the tournament in three years. However, Jordan Spieth reminded everyone of his ability. He finished on top with fellow Americans Tony Finau and Matt Kuchar tied for second.
For the complete leaderboard after Round 1, click here.
Super Spieth
Spieth (-6) was able to separate himself from the pack by birdying five straight holes. With that being said, Finau and Kuchar both finished the day with a score of -4. Another seven golfers finished three-under par.
Spieth explained his success thus far in Augusta:
On No. 8, @JordanSpieth hits it to 14 feet from 274 yards away, then sinks the putt for an eagle-3. #themasters pic.twitter.com/kp2DKxJ4Cx

— Masters Tournament (@TheMasters) April 5, 2018
Tiger's Return
Although he's tied for 29th, Woods (+1) looked positively upon his first-round performance.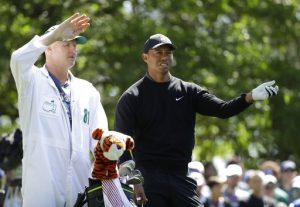 Taking into consideration his hiatus from the tournament and his injury history, it's understandable that Woods wouldn't come out firing on all cylinders.
While tied for 29th may sound grim, in reality, Woods is only seven strokes behind the leader. Woods has the confidence and experience to get himself back into contention in the next three days.
Sergio's Struggles
Sergio Garcia is setting records, but for all of the wrong reasons. Garcia, who won the 2017 Masters, currently sits in 85th place after a near-comedic 15th hole. Garcia scored a 13 on the hole after hitting five balls into the water. His 13 sets the record for the highest all-time score on the hole and ties the record for most strokes on a hole in Masters history.
Garcia reflected on his record-setting performance:
Other Notable Golfers
Rory McIlroy
McIlroy sits tied for fourth with a score of three-under par. He plans on staying patient for the coming rounds rather than falling into the trap of getting desperate.
Phil Mickelson
Mickelson is tied for eleventh at two-under par. While he is still in the mix, he feels that he could've performed better in Round 1.
Round 2
Coverage of the Masters will continue Friday on ESPN from 3 to 7:30 p.m.