Gator Baseball breeds athletes for the MLB Draft every year. This year, the Gators are sending three prospects expecting to go in the first and second rounds. According to MLB Draft prospect expert Jim Callis, there is a really good chance that Jackson Kowar, Brady Singer, and Jonathan India all get picked early on in the Draft.
Brady Singer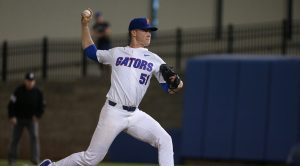 Junior pitcher Brady Singer remains a major prospect for the first round. According to Callis, "Singer at the end of the year is a number 1 overall draft prospect." As of now, Singer has not been as dominant as scouts had hoped. However, by the end of the year his potential to be a number 1 pick remains.
Singer was on the 2017 College World Series All-Tournament Team. He had 12 strikeouts in the CWS Finals game. This is the most in any CWS Finals game and the most by a UF pitcher in CWS history. He currently leads the Gators with 50 strikeouts, has a 2.74 era, and is 6-1 as the Friday night starter.
Jackson Kowar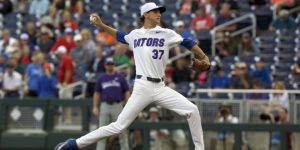 Jackson Kowar is another junior pitcher for the Gators. Callis believes that some scouts would take Kowar over Singer. Kowar has the capability to perform at the next level and will most likely be taken in the top ten picks overall.
Kowar was a 2017 Honorable Mention All-American. He is currently tied for the best single season in school history for the 2017 season, going 12-1 as the Sunday starter. As the Saturday night pitcher for the Gators this year, Kowar is 6-1 for the season thus far. With a 2.68 era and 44 strikeouts, Kowar has stepped up in the 2018 season.
Jonathan India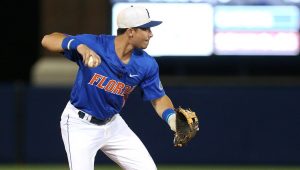 Jonathan India has been tearing it up at the plate recently. Right now he finds himself sitting pretty with a potential second round pick. However, Callis predicts he might find himself in the first round with a .430 hitting average and 10 homers halfway through the season. India in arguably one of the best infield defenders on the team. He has a .976 fielding percentage.
Draft Details
The MLB Draft will take place June 4-June 6.