The New York Mets defeated the Miami Marlins last night after the Marlins led the game twice. Marlins first-baseman Justin Bour smacked two home runs in the 5th and the 7th innings to give the Marlins the lead. Bour's success at the plate, however, did not push the Marlins past the Mets who seem to be pulling it together to win game after game.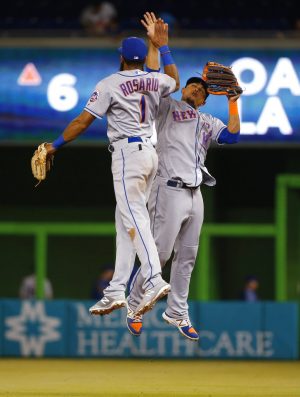 Marlins Performance, led by Bour
Bour has been in a hitting slump the past 10 games but his bat woke up last night hitting one homer opposite field for a two-run homer to start off his night of hitting. Bour's first homer came off Mets starter Jacob DeGrom in the fifth. That 377-foot blast put the Marlins up 4-3. This lead was not long lasted though as the Mets took the lead in the 6th. The game was tied in the seventh as Bour went up to the plate cranking another two-run homer off of Mets' reliever Jacob Rhame. This two-run lead by the Marlins would soon be lost though. Marking this the third game this season the Malrins have faught back from a three-run deficit and lost.
The win came from a ground ball by Yeonis Cespedes, who was 0-8 in the series. He capped the win for the Mets for his second game-winning hit in the last three games.
Bour now has 40 percent of the Marlins homers this season with his two on Tuesday night. The Marlins are at the bottom of the list for homers this season in the National League with only five.
Mets Making History
With the Mets' rally back to win against the Marlins on Tuesday night, they have kept the momentum going on their 9-1 start this season. This is the best start for the Mets in team history and the team is on a seven-game win streak.
Mets manager Mickey Callaway said that he thinks it's the team's mindset that has played a huge role in the Mets' success so far. 
Noah Snydergaard, New York's right-handed pitcher, said that this team has been fun to be a part of both on the field and in the dugout. 
Up Next
The Marlins are now 0-2 in the series against the Mets. The first pitch for the final game of the series is tonight at 7:10 p.m. in Miami.