A new start in Buffalo
AJ McCarron is ready to prove his doubter wrong and let his wins with the Buffalo Bills do the talking. The former Heisman candidate won three National Championships and a couple of SEC championships when he played with the Crimson Tide.
But when drafted in 2014 by the Cincinnati Bengals McCarron stopped being the starting quarterback and sat down for 4 years being the back up to pro bowler Andy Dalton. After signing a two-year 10 million dollar contract with a possible 6.5 million dollar extension if playing time exceeds, McCarron has a high chance of becoming a starting quarterback once again.
A.J. McCarron has agreed to join the @buffalobills on a two-year deal.

Learn more about the Bills new signal caller: pic.twitter.com/hQTSNrO0gV

— Buffalo Bills PR (@BuffaloBillsPR) March 14, 2018
Competition
McCarron isn't the only Quarterback on the Bills roster. Coming back is sophomore quarterback Nathan Peterman. As a rookie, Peterman started two games for the Bills last season throwing two touchdowns and five interceptions.
The Bills might also be in the draft market looking for a quarterback with the number 12 pick overall.   Over the last few weeks, the draft's top quarterbacks have been coming through the Bills' facility on official visits.
On Monday, McCarron saw Josh Allen, the towering, strong-armed quarterback from Wyoming. McCarron gives his best wishes to those quarterbacks but is not worried about receiving more competition for the starting job.
" I can't worry about that because it creates mental clutter for myself. If I create mental clutter for myself, I can't become the best player nor the best teammate that I need to be for this team."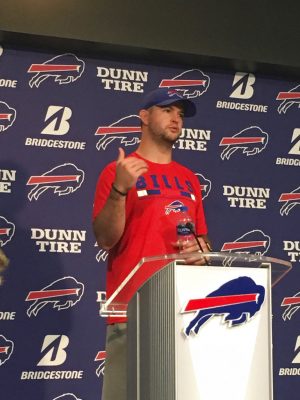 What McCarron can bring to the Bills.
As a backup McCarron started three games for the Bengals having a 2-1 record, throwing for 920 yards, six touchdowns, and two interceptions.
McCarron also started in the Bengals last playoff game where they lost to the Steelers 18-16, where he threw for 231 yards and two touchdowns. He is a four-year veteran that has been learning behind a great quarterback, Andy Dalton.
In his Alabama days, McCarron was a smart quarterback by reading defenses and was lethal when throwing the long ball.
With the Bills adding former Panthers receiver Kelvin Benjamin, he and McCarron make for a powerful combination if McCarron is able to channel his college days.
If McCarron is to be at the top of his game and the defense can have another great season, the Bills might take a wildcard run in the AFC.