Florida's former wide receiver Antonio Callaway reportedly failed a drug test at the NFL combine that could put his career in jeopardy.
Callaway Off the Field
Callaway has not seen time on the field since Jan. 2, 2017 due to issues off the field at Florida. However, he has still been the center of attention for the media over the past year.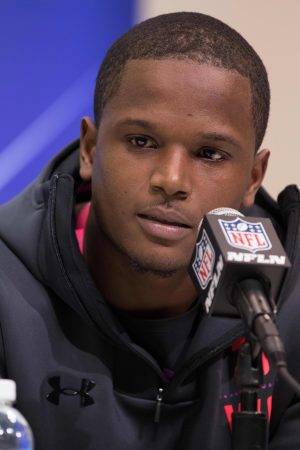 In 2016, Callaway was part of a Title IX investigation that centered around an alleged sexual battery. Callaway testified in this case that he was high on marijuana. Later, he was found not responsible for the sexual misconduct.
Additionally, entering his junior season at the University of Florida, he was found with marijuana possession in May when stopped at a traffic light. Another issue was at the beginning of the 2017 football season. Callaway was one of nine Florida players suspended for credit card fraud. Callaway was accused of using a stolen credit card, in which he spent $1,970 on the card at a UF bookstore. In conclusion to his collegiate career, in December, Callaway decided that he would not return to Florida's football roster and declared for the NFL draft.
Callaway's Combine Performance
Callaway was a top prospect at the NFL combine, according to scouts. One report stated that a scout said if he did not have issues off the field, he could be a top-20 pick.
Callaway had the third fastest time in the 40-yard dash at 4.41 seconds. He also was near the top of the list for both the vertical leap and broad jump. But, after reports from his drug test sample has reportedly come back positive for marijuana, Callaway's first-round pick could be taken away as several NFL teams may have dropped him off their list.
A talented player teams have been doing homework on is #Florida WR Antonio Callaway. Through his agent, Callaway confirmed his drug test sample at the NFL Combine came back diluted. Callaway has told those close to him he was over-hydrated and will address the issue with teams.

— Ian Rapoport (@RapSheet) April 24, 2018
Former Florida WR Antonio Callaway — who some considered as talented as any WR in this draft — tested positive for marijuana at the combine, NFL sources told ESPN.

Callaway's new agent Malki Kawa said it was for a diluted sample. Callaway hired Kawa about two weeks ago.

— Adam Schefter (@AdamSchefter) April 24, 2018
Callaway at Florida
Freshman season

35 receptions for 678 yards and four touchdowns
two punt returns for touchdowns

Sophomore season

54 receptions for 721 yards and three touchdowns
one kickoff return for touchdown

Junior season
The future of Callaway
According to reports, Callaway said that the recent birth of his new daughter has changed him. However, these recent acts will not look good to the NFL teams that may have wanted Callaway as early as the first-round.