During the regular season, the Houston Rockets and Golden State Warriors played to a virtual standstill. Over the course of three games, James Harden and company poured 352 on their Bay Area foes. The Warriors registered 353. One of those tilts was decided by a single point.
Evidently, a lot has changed since their last meeting on January 20.
After playing to a 56-all tie in the first half, the Rockets went on to drop their Western Conference Final opener 119-106. Despite a game-high 41-point effort from Harden, Houston's offense couldn't stick with Golden State's starting five: Kevin Durant (37), Klay Thompson (28), Stephen Curry (18) and Andre Iguodala (11) each posted double-digit scoring, while Draymond Green dished a team-leading nine assists.
"I think collectively as a team — no matter how many minutes, no matter what we do — nobody on our team did enough," small forward PJ Tucker said.
The good news: The Rockets' supporting cast can't get much worse going forward.
"Star"-ters?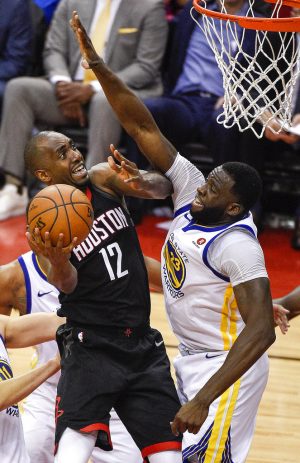 While Golden State's "Hamptons Five" scored at will throughout the contest, Houston's lack of scoring depth grew more and more apparent as the game wore on.
Harden and point guard Chris Paul accounted for roughly 60 percent of the Rockets' total offensive output. That disparity looks uglier when compared to the rest of the starting five: With a meager 21 points between them, Tucker, Trevor Ariza and Clint Capela generated one point for every 3.05 scored by Harden and Paul. Beyond their superstar couple, only two players — Capela, a center, and shooting guard Eric Gordon — posted more than eight points.
Houston's scoring woes were compounded by poor showings from their cadre of bench players. Although they outscored the Warriors' bench 21-20, three of coach Mike D'Antoni's five substitutes failed to make a single basket. Gordon notched 15 of those points, but also coughed four turnovers.
"We're all in this together," Harden said. "It doesn't matter who has a bad game or who is missing shots. … Keep shooting your shot and being aggressive. We got this far doing that and having that mindset, so we're just going to continue it."