Gators Softball
If you've ever been to a University of Florida Softball game, you know that many of the fans take their seats on a patch of grass alongside both the first and third base lines.
However, with the latest plans for a stadium renovation, Gator fans are unlikely to face this situation for seasons to come.
After falling short of winning their third National Championship at the 2018 Women College World Series, the Florida Gators softball team still has a lot to look forward to for their upcoming 2019 season, including a big-time renovation to their stadium.
.@Alberta_Gator is going to get this renovation started off the right way! #KSPRenovation pic.twitter.com/ZPsK6C1ME3

— Gators Softball (@GatorsSB) June 11, 2018
New Beginnings
The renovations to the Katie Seashole Pressly Stadium started earlier this week and will continue until the start of the 2019 season. The new enhancements to the facility will include a new 360-degree open concourse and seating, more shade for fans, more seating, and elevated press box and many other additions.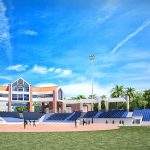 In total, these exciting renovations will fall under an estimated budget of 11 million dollars. This doubles the figure for the stadium of the 2014 and 2015 softball national champions and is well earned and well deserved.
Not only does Tim Walton and the Gators softball team carry two national titles under their belt, but they have also appeared in five of the last six Women College World Series and have been the softball SEC champions for the last four years in a row.
With the type of success that the Florida Gators softball team has had, it has attracted thousands of fans to their home game. A renovation of this type will look to accommodate these thousands of fans and enhance their experience.
Although the finishing touches are months away for the new Katie Seashole Pressly Stadium to be complete, the construction has already begun. Get excited about it Gator Softball fans, sitting on the grass will be a thing of the past.