The Florida Gator football team will be back on the field this Saturday. The Gators have won 28 consecutive season home openers making it the longest streak in the country. Although there are some new faces on the sidelines this season, one familiar face continues to be a part of Gator football. Steve Spurrier.
Spurrier's Thoughts
Steve Spurrier was Florida's first Heisman Trophy winner, coached the Gators to six SEC Championship Titles and led Florida to their first National Championship Title. He has been watching the Gators as they continue to prepare for their first game of the 2018-2019 season.
Spurrier says that this Florida team has already created a different atmosphere in the locker-room in comparison to the last few seasons.
Florida averaged 22 points per game in their 2017 season. This compares to the Gators 2008 national championship team that averaged around 43 points per game (4th in the country for points per game in 2008). Last season, Florida rushed for a total of 1,720 yards and added another 1,975 yards through the air. Spurrier was not shy when pointing out that Dan Mullen has his work cut out for him in order to get Florida's offense back to being top-notch.
Spurrier said that he believes the offense will be better this year and the defense will continue to improve as Florida has a favorable schedule this season.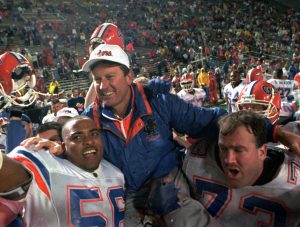 Put him in Coach
Coach Spurrier will not only be helping out the Gator football team this year. He was also named the new ball coach for the Orlando team for the Alliance of American Football.
Spurrier said that he's looking forward to this position because he will have the opportunity to continue coaching in a very different way. The Orlando team is a four-month-long commitment with no recruiting involved. Most of Orlando team's players will be from the colleges in the state of Florida.
He hopes this league will be a place for the overflow of competitive athletes that want to continue to play professional football.
Florida Takes the field
Spurrier has some optimism as the Gators take the field this weekend. Spurrier believes fans will be excited for their performance on Saturday. Florida hosts Charleston Southern this Saturday with kickoff set for 7:30 P.M.