The 1993 team put Florida football on the map. Steve Spurrier started his coaching dynasty, the Danny Wuerffel era started and the year marked a run of four straight SEC Championships.
Remembering the Past
On Saturday, Florida will honor the 1993 football team on their 25th anniversary at halftime against the Kentucky Wildcats. 25 years ago, Chris Doering hauled in a touchdown catch with three seconds left in one of the best moments in the all-time series between the teams.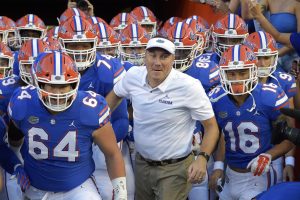 "25 years since I had an opportunity to catch that pass against Kentucky in Lexington," Doering said. "I think people overlook the importance of that team in the historical trajectory of this program."
Doering, who grew up in Gainesville, recalls that part of the reason the Gators struggled to be a consistent winning program was their lack of ability to win on the road.
"Going on the road in '91 and '92, we still struggled to win in this conference so it took some learning to how you go on the road and handle that business-like trip," Doering said. "Coach Spurrier points to that Kentucky game in '93 as the game that kind of changed the fortunes of the program."
Doering notes that the Gators probably should have lost that game after throwing seven interceptions but highlights the perseverance the team showed which translated into growth for the overall program.
"We were able to become much more consistent when we travel," Doering said. "Our road record was probably almost as good as what our home record was and I think we took a lot of pride in going on the road and clearing peoples stadiums out."
Looking Ahead
With week one in the books, Doering had an opportunity to digest this new look Florida team. He was especially pleased with the play style the team had.
"It's been a long time since people had fun when associating themselves with Florida football," Doering said. "It looked like the fans were having a good time, the players on the sideline and not on the field were having a good time and I thought Dan Mullen did a great job calling plays to elicit some of that emotion."