Conference play begins for both Tigers this weekend, as LSU and Auburn face off at the Jordan-Hare Stadium. Both teams have seen a great start to the season, winning their first two games, and this matchup could prove pivotal in the battle for the SEC West against Alabama.
Auburn Tigers Looking For Revenge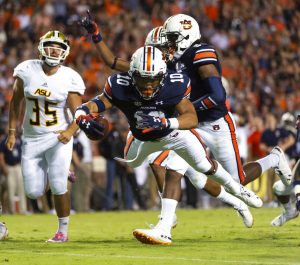 Auburn is the 10 point betting favorite for this matchup, given that the home side has won the past 16 out of 18 matches. Aside from home field advantage, Auburn is also looking for revenge from last years matchup. They led LSU 20-0 at one point in the second quarter and 23-14 at the half in Tiger Stadium. In the fourth quarter, the LSU Tigers rallied to come back and defeat Auburn, 27-23, a loss that still tastes sour since it could have arguably cost them a 2017 CFB Playoff spot.
Auburn has had a great start to the 2018 season. They kicked off with a 21-16 win against a tough Washington Huskies team and followed that with a big 63-9 victory over Alabama State last week. LSU will potentially be Auburn's biggest test until later in the season when they take on Georgia and Alabama.
Auburn Head Coach Gus Malzahn has continued building off of last season's success. While they showed their offensive explosiveness last match, they'll face a tougher defense in LSU. They'll look for quarterback Jarrett Stidham to lead them in this massive matchup with playoff picture implications. A win against the LSU Tigers will put Auburn in the front seat to challenge Alabama for the SEC West this season.
LSU Tigers Hoping to Upset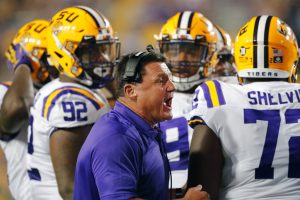 While Vegas has the odds against them, the LSU Tigers believe they can come to Auburn and break the pattern in this series. LSU has also seen a great start to the season having convincingly defeated the Miami Hurricanes 33-17 in their season opener at an impartial site. They followed up with a 31-0 win against the Southeastern Louisiana Lions last week.
It'll be a tough challenge for LSU, who travel to Jordan-Hare for the first time under Head Coach Ed Orgeron. "This is a very very good defense with a dominant front. There's gonna be some adversity in the game, and we're gonna find out what we're about." Head LSU football coach Ed Orgeron said.
In order to pull the upset, they'll have to overcome the hostile environment, by focusing on the defense that helped them beat Miami and forcing turnovers. They could also count on their special teams coming up big. Their kicker, Cole Tracy, has been perfect so far making all of his field goal attempts so far including two 50-plus yard field goals.
Watch out, Auburn!

You might be at home, but LSU and America have you on upset alert in the @CapitalOne Fan Vote. pic.twitter.com/4RYyyy7L8N

— SportsCenter (@SportsCenter) September 11, 2018
LSU has a tough schedule ahead of them, including matchups against Mississippi State, Georgia, and Alabama. A win against Auburn tomorrow, could give them a little breathing room and set up a matchup with Alabama for the SEC West.
When and Where
The Battle of the Tigers will take place Saturday, Sept. 15th at the Jordan-Hare Stadium in Auburn, Alabama. Coverage will start at 2:30 pm on CBS.
A mega football game.
Time to bring it to another level.
It's LSU vs. Auburn.
2:30 p.m. | CBS pic.twitter.com/MbttcJWm88

— LSU Football (@LSUfootball) September 13, 2018