The No. 11 Florida Gators have just one more early season tournament before jumping into SEC play.
Florida hosts the Honda of Gainesville Gator Invitational tonight and Saturday. The teams competing include Florida, Florida International, Jacksonville and Army.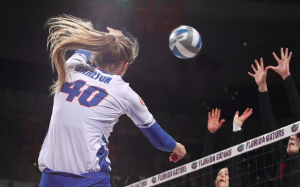 The Gators defeated Florida State in four sets Wednesday night and went 2-1 in the Lumberjack Invitational last weekend.
"The decision to play these matches, last weekend and this weekend, is because we're so young and we need these matches to learn," Head Coach Mary Wise said during a Tuesday media availability.
Jacksonville Dolphins, 12 p.m. Friday
The Gators will get it going early against a JU team that has started its 2018 season winning only one of its first nine matches under first-year head coach Evan Muys. Their head coach for the last three years, Julie Darty, departed after being hired by Mississippi State.
Florida will be the Dolphins's first ranked opponent of the season.
Florida has yet to lose in the all-time series boasting a 18-0 match record against the Dolphins. The last time these two met, Florida swept a 2016 match in straight sets at home 25-12, 25-18, 25-20.
Players to Watch:
Junior outside hitter Mallory Mattingly – ranks in the top ten in the ASUN in both kills (No. 6 with 110) and kills per set (No. 5 with 3.14).
Sophomore middle blocker Hannah Marchand – sits No. 9 in the conference with 30 total blocks
Senior setter Lauren Petersen – currently No. 3 in total assists (295) and assists per set (8.43).
FIU Panthers, 7 p.m. Friday
Florida International meets the Gators for the first time in six years. The last time they played Florida swept FIU in Gainesville 25-21, 25-14, 25-12.
The Panthers come in with a 6-3 record and sit third in the Conference USA standings.
Rita Buck-Crockett's squad comes into the match possessing one of C-USA's best defensive teams:
No. 4 in opponent's hitting percentage (.153)
No. 5 in digs per set (15.36)
No. 2 in opponent kills per set (11.06)
No. 5 in blocks per set (2.08)
With a 6-3 record for the 2018 campaign, the Panthers now look ahead to their next tournament this weekend in Gainesville!

Watch today's @FIUVolleyball practice recap with Head Coach Rita Buck-Crockett & Chelsea Hudson. #PawsUp pic.twitter.com/4ayxsbglcG

— FIU Athletics (@FIUAthletics) September 12, 2018
Florida International is led defensively by redshirt junior libero Lina Bernier who ranks second in the conference with 5.17 digs per set. Fellow redshirt junior, and middle blocker Chelsea Hudson paces FIU with 31 blocks on the season.
FIU is no slouch offensively either. They are fourth in both assists per set with 12.42 and kills per set with 13.47. Senior Margherita Bianchin leads the team with 3.81 kills per set.
Army, 2 p.m. Saturday
The Black Knights come in with a 3-7 record. This match will be the first meeting between Florida and Army.
Army comes in losing its last five matches. The Black Knights's last win came on Sep. 1 against Southeastern Louisiana. In their last match, dropped a five-setter against New Hampshire on Sep. 8.
Two players the Black Knights rely on for offensive production are freshman middle blocker Emmy Barnhorst and junior opposite hitter Sydney Morriss. Both are coming off double-digit kill performances against New Hampshire.
Barnhorst recorded 15 kills on a .407 hitting percentage and five blocks while Morriss took home 12 as she impressed with an .406 hitting percentage.
The Black Knights will face FIU at 10 a.m. and Jacksonville at 5 p.m. on Friday before facing the Gators.