The Kansas City Chiefs move to 4-0 on the season after their 27-23 win over the Denver Broncos Monday night. It was an intense game right up to the fourth quarter as the Chiefs had to overcome a 10-point deficit to win. Now, Kansas City has a 2-game lead over their AFC West rivals who are 2-2 currently. The Chiefs have now beaten the Broncos six straight times.
Patrick Mahomes and His Impressive Throw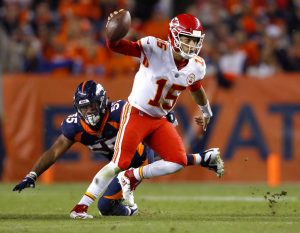 Chiefs Quarterback Patrick Mahomes was impressive last night. He was 28-of-45 for 304 yards and one touchdown. However, those numbers weren't the most interesting part of his game. Instead, Mahomes proved his talent and worth to the Chiefs when he decided to throw with his left hand.
On the last drive, Mahomes was about to be sacked by Von Miller on third-and-5 when he moved the ball to his left hand and threw to Tyreek Hill just a little past the first down marker. His coaches said they have seen the left-handed throw in practice, but not in this setting.
Mahomes said after the game that with a defense like the Broncos, it was hard to get going in the first half.
"For us, we had to just find a way. We weren't clicking anywhere in the first half. We were just grinding and fighting and doing what we could," Mahomes said. "The defense kept us in the game and gave us a chance at the end there to make plays."
Other Notable Moments
Before Chiefs Kareem Hunt scored his first touchdown of the night, he had a run in with Broncos safety Justin Simmons. Hunt catches the ball, runs through two Broncos defenders and rams right into Simmons – head first. It was a pretty nasty takedown.
Here it is again: 
https://twitter.com/thecheckdown/status/1046920046235111424?ref_src=twsrc%5Etfw%7Ctwcamp%5Etweetembed%7Ctwterm%5E1046920046235111424&ref_url=https%3A%2F%2Fwww.sbnation.com%2F2018%2F10%2F2%2F17926650%2Fchiefs-broncos-nfl-week-4-patrick-mahomes-left-handed-throw
Also, Chiefs cornerback Eric Murray ripped the ball away from Broncos tight end Jeff Heuerman in the third quarter. The Chiefs weren't able to capitalize on the interception, but it was good to see the Kansas City defense making a good play like this as they haven't been the best this season. This was only the secondary's second interception of the season.
Check out the play right here: 
Eric Murray with one of the plays of the season.

Gets his hand in there and just takes it away pic.twitter.com/8Ox3mtRgZ4

— Sam Monson (@PFF_Sam) October 2, 2018
Up Next
The Chiefs will host the Jacksonville Jaguars and the Broncos visit the New York Jets. Both of those games are on Sunday.