The Miami Hurricanes and Florida State Seminoles could not have had worse starts to the season. The Hurricanes endured an absolute beat-down by the LSU Tigers, while the Seminoles got dominated by the Virginia Tech Hokies. Miami has bounced back with four straight victories, but Florida State has struggled mightily with a near-loss to Samford and a bad loss to Syracuse. Both teams are trending in the opposite direction heading towards the half-way point of the season.
What to Expect From Florida State?
The Florida State offense has really struggled to find any type of rhythm. They average 22.2 points per game, which ranks 111th in the country. Their rushing game has been abysmal, averaging 97.4 rush yards per game (121st in the country). This lack of offensive production has to do with their inefficient and ineffective offensive line. Their offensive line simply cannot keep pressure off of quarterback Deondre Francois and running back Cam Akers.
Even with very little time in the pocket, Francois has had a productive season. He has completed 110 out of 175 attempts (62.9%) for 1,377 yards, nine touchdowns and five interceptions. Francois has a passer rating of 140.2.
Cam Akers has led the rushing attack with 316 yards and a touchdown. The receiving core has been paced by numerous players. Nyqwan Murray has led all receivers with 25 receptions for 345 yards and two touchdowns. Keith Gavin, Tamorrion Terry and Tre' McKitty have combined for 44 catches, 666 yards and six touchdowns.
The Seminoles defense is simply average. Their secondary is sub-par and they don't have any elite playmakers on this side of the ball. Brian Burns has 5.0 sacks and Kyle Meyers and A.J. Westbrook each have two interceptions on the season. However, they don't have a big-time defensive stud like they have in previous years with Jalen Ramsey, Derwin James or Ronald Darby.
What to Expect From Miami?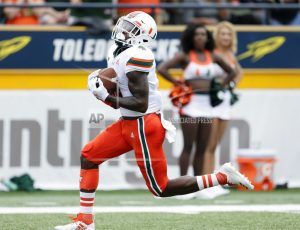 Miami has been unable to find consistency at quarterback. Malik Rosier and N'Kosi Perry have essentially split time behind center. They have both played average against subpar competition. Travis Homer and DeeJay Dallas lead the rushing attack with 702 yards and three touchdowns. Jeff Thomas has paced the receivers with 320 yards and two touchdowns.
The Hurricanes average 44.2 points per game, which ranks 15th in the country. They also average 213.4 rushing yards per game, which is 32nd in the country.
The Miami defense is incredibly athletic. Multiple players can get to the quarterback with ease and their secondary is elite. Sheldrick Redwine and Jhavonte Dean each have two interceptions, which Shaquille Quarterman leads the team in sacks (3.0) and tackles (27).
When and Where?
This game will be played in Miami on October 6th at 3:30 p.m.