The Milwaukee Brewers have been on a roll in the past few weeks.
The Brewers capped off their regular season with an eight-game winning streak, including a win against the Chicago Cubs in the tiebreaker for the NL Central. In the postseason, Milwaukee swept the Colorado Rockies to advance to their second NL Championship Series in franchise history.
On Friday night, the Brewers will host the Los Angeles Dodgers in the first game of the NLCS. This is the first postseason meeting between the two clubs.
Following Yelich's Lead
Milwaukee might not even be in the postseason if Christian Yelich was not on the roster.
Yelich, traded by the Miami Marlins to the Brewers in January, is one of the favorites to win the 2018 NL MVP. The sixth-year player has a .326 batting average, 36 home runs and 110 RBIs on the season, all of which are team-high statistics.
With Yelich being a native of Thousand Oaks, California, and having attended a plethora of Dodgers games as a kid, this series has just a little more meaning for him:
"It's going to be cool for sure," Yelich said. "Your 10-year-old self probably wouldn't really believe what is about to take place here over the next week or so. It's going to be a great opportunity and it's something just to have fun with and enjoy it. Just try to take it all in."
Relying on the Pitching Staff
Craig Counsell, who has been the manager of the Brewers for just under four years, will have to manage his pitchers wisely against the Dodgers. Los Angeles averaged 4.93 runs per game and hit a combined 235 home runs in the regular season.
As to who he will start in the first three games of the series, Counsell will go with Gio Gonzalez, then Wade Miley and finally Jhoulys Chacin. Milwaukee's manager talked about how there will be different standards for his pitchers in the NLCS.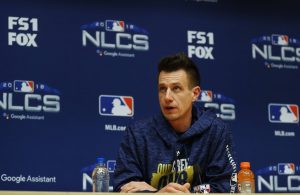 "We've done things differently," Counsell said. "We feel like we kind of have done [things] differently a whole bunch of the season. So, it's always going to be a part of the conversation. But we also have to understand this is a different series and there are different requirements for our pitching staff."
Facing the Lefties
There are a few non-pitchers who are guaranteed to start this series: Yelich, Lorenzo Cain, Jesus Aguilar and Ryan Braun. Due to the number of left-handed pitchers on the Dodgers' roster, other Brewers may see inconsistent playing time.
Milwaukee will be facing Clayton Kershaw on Friday, Hyun-Jin Ryu on Saturday and Rich Hill on Tuesday. These lefties will cause Counsell to change his lineup to adjust to Los Angele's rotation:
"It means you're going to see different lineups kind of regularly," Counsell said. "So we won't see just one lineup. There will be more guys kind of in the starting lineup. We think we have the players for it."
Game Notes
First pitch for Game 1 is scheduled for 8:09 p.m. on Friday. Game 2 is set to begin at 4:09 p.m. on Saturday.