The Jacksonville Jaguars prepare to face the Dallas Cowboys this weekend at the AT&T Stadium. Both teams have a lot of improvements to make as they head into the rest of their regular season play.
Everything is awesome when you're wearing black and teal.

We'll be wearing black tops, teal pants against the Cowboys on Sunday. pic.twitter.com/JwLZnRpxid

— #DUUUVAL (@Jaguars) October 10, 2018
Jaguars Look for Consistency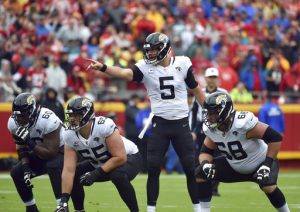 Last week was rough for the Jaguars. They lost 30-14 to the Kansas City Chiefs, dropping a lot of potential points because of errors made on the field. Despite Jacksonville having 29 first downs compared to Kansas City's 26 first downs, Jaguars quarterback Blake Bortles had one TD and four interceptions, with the Chief's defense picking off one and bringing it back for a touchdown. Bortles did collect the most yards in this game, going 33 of 61 for 430 yards.
As far as stats go, Jaguars head coach Doug Marrone commented on their negative seven standing for turnovers.
"We're 3-2 but minus seven, which is really tough to do, be 3-2 and be minus seven in the turnover ratio," he said. "It's a trend that I talked about with the team today. If we don't change that, we're going to be in trouble. We have to change that."
.@NFL Leader in Rushing Yards ✔️@EzekielElliott | #DallasCowboys pic.twitter.com/fNodjeLJcv

— Dallas Cowboys (@dallascowboys) October 11, 2018
Cowboys Have Work to Do
Dallas is off to a rough start this year. With a 2-3 record, they are ranked 30th in the league for passing yards (172.0) and average points scored in a game (16.6). However, Cowboys running back Ezekiel Elliot leads the NFL in rushing yards, with 480 yards so far. Unfortunately, Elliot's efforts were not enough in their last game against the Houston Texans, he only had 54 yards for 20 carries, an average of 2.7 yards per carry. Quarterback Dak Prescott had 208 passing yards and a touchdown but threw two interceptions for the Cowboys; they fell short losing 19-16 in overtime. Prescott and Elliot will both have to step up if they want to give Dallas a win at home this week.
ESPN Power Index
The ESPN Football Power Index predicts that the Cowboys have a 56.1% chance of beating the Jaguars.
Game Time
Watch the Jacksonville Jaguars play the Dallas Cowboys in the AT&T Stadium on Oct. 14 at 4:25 p.m.  The game will be shown on CBS.