Former Tampa Bay Buccaneer and NFL Legend Jon Gruden is back in business this season as the Oakland Raiders head football coach. Having a 1-5 record, the start of his coaching career isn't looking too good.
Trading Khalil Mack
At the start of the season, the Chicago Bears acquired Khalil Mack from the Raiders. Mack is now the highest-paid defensive player in NFL history, averaging $23.5 million per season.
"We will continually be second-guessed for our decision," Gruden said.
Offensive Struggles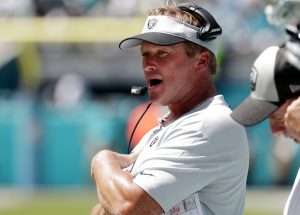 Between not scoring points, Derek Carr not really producing and injuries, the offensive side of the ball has had a rough season. Wide receivers' Seth Roberts and Amari Cooper are currently in concussion protocol and running back Marshawn Lynch is suffering a groin strain. Carr also suffered a shoulder injury midway through the fourth quarter against the Seattle Seahawks.
Lynch is averaging 4.3 yards a carry yet is not receiving the ball as much as people think he should. Carr has thrown eight interceptions on the season with one in the red zone against the Seahawks last week. His high passing yards looks to come from him being forced to throw the ball from being down every game.
"I'm not gonna never throw the ball on first and goal again," Gruden said.
California Rivals
With many great teams in the state of California, the Los Angeles Rams, the youngest California team, are the ones standing out. At the start of the season, the  Rams took down the Raiders 33-13. The Rams are now 6-0 on the season. The expectations for Gruden and the Raiders were high on the season but it seems that the turf war is being won by the Rams.
Up Next
The Raiders will have the week off this week which may be coming at a good time due to all the injuries. They will then face the Indianapolis Colts next Sunday, October 28 at 4:05 p.m.