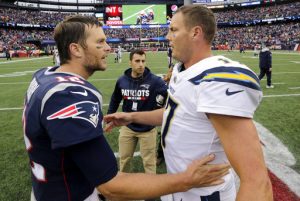 An AFC Divisional Round playoff game in Foxborough is almost a guarantee every year. With the New England Patriots going nearly unbeaten in Gillette Stadium in the postseason in the last century, we will see an interesting matchup this Sunday when the Los Angeles Chargers come to town.
Rivers vs Brady Part 3
There is no doubt that Philip Rivers is one of the best quarterbacks of this generation but when going up against maybe the greatest quarterback of all time you have to be on your A game. This will be the third time Tom Brady and Rivers will face off in the postseason with Rivers looking for his first win against Brady over nine attempts.
The first time these two met in the playoffs was back in 2006 when the Chargers, coming off a 14-2 season, were easy Super Bowl favorites. Then Brady and the Patriots pulled off an upset in San Diego. The second postseason faceoff took place in 2007 in the AFC Championship.
"It all comes down to this."

Brady talks Rivers & the Chargers; playoff perspective in Friday presser: https://t.co/gGqfKzvZAZ pic.twitter.com/Y3hBqOidbK

— New England Patriots (@Patriots) January 11, 2019
The year that the Patriots went 17-0 and were set to be crowned the greatest team in NFL History. Both games Rivers had impressive performances with quarterback ratings of above 70 but his defense always came up short against who some call the greatest quarterback of all time. Rivers will be going into this matchup with a rating of 90.8 in the season and Brady right behind him with a 90.7 rating.
Key Matchup: Chargers Defense vs Patriots O-Line and Running Backs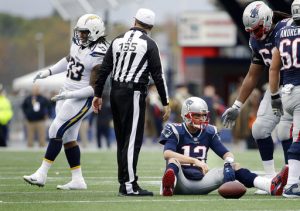 The Chargers defense when healthy have been impressive all season. Key players like Melvin Ingram, Derwin James, and Joey Bosa have shut down offenses all season and it was shown last week vs Baltimore. Last week one key thing we saw was that the Chargers defense went in using seven defensive backs on the field.
Due to the lack of options on linebackers, we may see Gus Bradley's defense go into the same formation this week. Although the deep DB option worked again John Harbaugh and the Ravens who couldn't adjust, will it work on Belichick who loves to use two running backs and two tight end formations?
Patriots running back Sony Michelle was powerful throughout the season averaging for 70 yards per game but coming back from his injury in week 10 he was seen as a bit inconsistent. With the Chargers lack of linebackers, we can see some big runs coming from the rookie running back. In the passing game, we can also see running backs getting some work. James White had 751 receiving yards this season.
We can see the White and Brady combination having a big game against a defense that ranked 23rd in defending the pass against running backs. Looking at the Patriots Offensive line, they ranked the best in the league in pass protecting. If they can maintain Bosa and Ingram away from Brady, Brady can make something happen downfield. If the Chargers defensive line finds a hole it's going to be a long day for Belichick and his offense.
Overall
The Chargers go into Sunday with a more complete and healthier roster. But facing New England in the playoffs at home after a week of rest is dangerous. If Philip Rivers keeps up his big performances against New England they can sneak away with an upset in Foxborough.
https://twitter.com/NFL/status/1083600664570277889