Last night the 35th annual NBA Draft Lottery took place in Chicago. All 14 teams who didn't make the postseason were hoping to secure a number one pick in the 2019 draft.
This was the first time a new system was implemented for the lottery. With the updated system the three teams with the worst regular season records all have a 14% chance of winning the lottery. This year those teams were New York, Cleveland, and Phoenix. The revamped system was created with the aim of leveling the playing field of the draft lottery.
Lucky Number 6%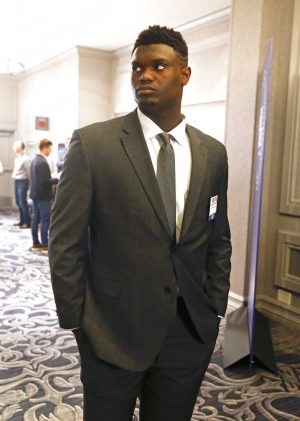 However, none of the three teams with the worst records walked away with the number one pick. The New Orleans Pelicans beat the odds and claimed the pick. They only had a 6% chance of winning the lottery.
With the number one pick, the Pelicans are expected to select Duke superstar Zion Williamson. Williamson had an immediate impact in his one and only year with the Blue Devils. He averaged 22.6 points and 8.9 rebounds a game.
Zion Williamson Scouting Video https://t.co/ZKxuchaA9U pic.twitter.com/YHQiiBgUxz

— Mike Schmitz (@Mike_Schmitz) May 15, 2019
NBA Draft Lottery results:
1. New Orleans
2. Memphis
3. New York
4. Los Angeles Lakers
5. Cleveland
6. Phoenix
7. Chicago
8. Atlanta
9. Washington
10. Atlanta
11. Minnesota
12. Charlotte
13. Miami
14. Boston
Save The Date
The 2019 NBA Draft will take place on Thursday, June 20 at Barclays Center in Brooklyn, N.Y.