Earlier this month, head coach Dan Mullen mentioned that he and his staff were still looking for an "alpha dog" to emerge within his team. Someone who not only produces good results on the field, but also led the team off of the field. Perhaps the reason Mullen hasn't found the alpha dog, is because the team leader has taken the shape of another breed — a lion.
Throughout the entire offseason, members of the Florida Gators football team have commended quarterback Feleipe Franks for his newly adopted leadership role. Running back Lamical Perine elaborated on what makes the team buy in to Franks' charisma.
With his teammates convinced of his leadership abilities, why hasn't Dan Mullen bought into his quarterback and his capability of filing the team's alpha dog void?
What's an alpha dog?
Feleipe Franks isn't sure he classifies himself as an alpha dog; and if he does its because his definition of alpha dog is a lion. When asked for his definition of an alpha dog, Franks turned the question on it's head and gave a response that helped everyone understand where his mentality stands.
While elaborating on his definition, Franks identified an alpha dog as the ultimate competitor.
Lion lifestyle
With a greater understanding of what Franks believes to be an alpha d– I mean lion, the important question is does Franks, himself, check those boxes?

Since mid-season last year, Franks has used the lion as a constant symbol on his social media pages; specifically Instagram. Instead of a picture of him donning orange and blue, Franks' profile picture shows a lion.
When asked about the symbolism, Franks' answer should leave Gators fans excited for what's to come from the starting quarterback:
"Someone who perseveres no matter what is thrown at them; and they won't go down without a fight. Someone who loves to win in everything they do in life." – Feleipe Franks
If anyone has illustrated perseverance, it's Feleipe Franks. From being booed off the field during his outing against Missouri last season to leading the Gators to impressive victories against Florida State and Michigan, Franks' career at Florida has been no walk in the park.
Hushing the critics… again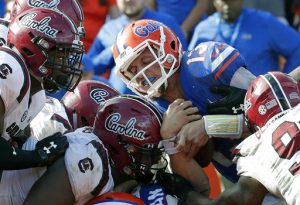 After a lethargic first quarter against South Carolina last season, it seemed as though the Gators were letting the Missouri game from a week earlier bleed into their performance. With nine minutes to the half and the Gators driving down the field, Franks took a quarterback draw 10 yards into the end zone to knot the game up at 14 apiece.
Following the score, Franks hurried to the south end zone wall and using his finger gestured to the home crown to keep quiet.
This year, Franks is taking a different approach to dealing with criticism; he's just not going to listen to it. Franks said during Monday's press conference that Dan Mullen nailed it into his head to ignore outside noise.
What Franks expects from himself and team
During his career at Florida, Franks understands exactly how high the expectations are for the Florida Gators football team year in and year out. While being the quarterback at Florida comes with an immense amount of pressure, the expectations are high at every position. The expectations for the team are even greater at Florida, something Dan Mullen improved on in his first year.
Feleipe Franks believes that this year's team is one that could live up to the expectations of the "Gator Standard."
Heading into the season, Franks and the Gators have their sights set on a national title. He believes they'd be selling themselves short if the goal wasn't to win a championship.
As the Gators are set to operate under year two of Dan Mullen, it seems as though the team is making strides towards improving it's mentality; and all of it starts with Franks. If Franks can implement his lion lifestyle on the field, perhaps he can lead his team to their first College Football Playoff berth. The quest starts for Franks and the Gators as they lineup against Miami on Saturday.