The Santa Fe Saints volleyball team repped pink jerseys recently in a match against Eastern Florida State College; the match that was dedicated to National Breast Cancer Awareness Month ended in three games and a quick Saints victory with the scores of 25-17, 25-15, 25-16. 
Game one experienced a rough start for the Saints with a six point Titan lead, but the Saints were able to come back to get the win. The momentum stayed with them throughout the rest of the match and brought the Saints' overall record to 9-11.
Middle blocker Natalie Martinez proved to be a tremendous offensive force with seven kills on 15 attempts. Defensively, middle blocker Emily Register helped with four blocks.
https://twitter.com/parkerrwelch/status/1184250736705712130
Back-To-Back Champions
The Saints also won the 2019 Panhandle Conference Championship title after winning a five-set match against Florida State College in a match on October 11. This awarded the Saints back-to-back conference title bragging rights.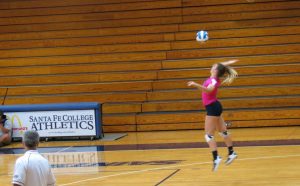 Saints coach Nick Cheronis said his team might have had a bit of a hangover from winning that conference title in the match against Eastern Florida State Florida College.
"We talked to the team a little bit about having what I call championship hangover and they definitely came out tonight in the first set with a little hangover. But they recognized this and responded and played very well, so they just kinda had to get through that fog." 
The Pink Night win gives the Saints a five-game winning streak as they near the end of the regular season. Coach Cheronis is happy with the growth the team has made and makes plans to prepare for post season.
"There are always adjustments we can make, most of the time when you get to this point in the season you are who you are, there's not too many different things that you can do, but we have some time here to develop some other things. We will see what we can do," said Cheronis. 
Sophomore Day
The Saints will play their last regular season game on Saturday at October 19 at 1 p.m. against Pasco-Hernando State College. The match will be dedicated to the sophomores on the team as they play their final season as Saints. The sophomore class includes Alicia Marzullo, Kelley Catlett, Zoey Chilcote, Jordyn Goracke, Jenna Wiggs and Natalie Martinez.