For the last 42 years, Mike Krzyzewski has been the head coach of the Duke Blue Devils men's basketball team. Coach K's impact on the world of college basketball is unmatched. He has lead the Blue Devils to five NCAA National Championships, 12 Final Four appearances, 15 ACC tournament championships and 13 ACC regular season titles.
Coach K is arguably one of the greatest college basketball coaches of all time. He plans to ride off in the sunset this season by winning one last national title for the Blue Devils. Duke is ranked fourth in the nation and is in prime position.
https://twitter.com/DukeMBB/status/1499493330450890753
The Historic Career of Mike Krzyzewski
Krzyzewski had a slow start at Duke when he was hired in 1980. In his first few years combined, the Blue Devils were barely over .500, with only a single winning season. Duke fans were critical and put pressure on the administration to reconsider who the head coach should be.
However, Coach K thrived under this pressure and began to accumulate winning seasons under his belt. He brought Duke to national contention when he won the infamous back-to-back titles in 1991 and 1992 to establish himself. He also won national titles in 2001, 2010, and 2015. Additionally, being a big part of the USA National Team, Mike would win three gold medals over his career.
Preparing for North Carolina
Duke defeated UNC in dominant fashion earlier this season, 87-67. The Blue Devils are the more talented team and have the pieces to compete for a national title later in March. According to ESPN, Duke currently has five players projected to go in the top 50 of the NBA draft. Freshman Paolo Banchero is the star of the show.
Banchero is leading the Blue Devils in both points and rebounds by averaging 16.9 and 7.8 respectively. When the offense is running through him, Duke wins games and looks like one of the top teams in college basketball. UNC has some star players and a tradition of winning, so the Blue Devils can't get too caught up the moment.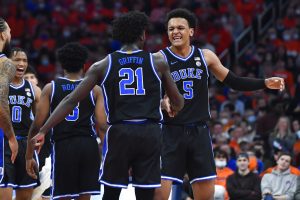 Life for Duke after Coach K's departure
Duke's men's basketball team hasn't been without Coach K as head coach since 1979. Krzyzewski's retirement is forcing Duke to make huge adjustments to their program. The university is going to have to build a staff that can carry on Mike's legacy and continue to bring winning basketball to Durham.
Mike cleared the air regarding his involvement with the team once he is gone. He discussed how he felt about the programs future and that he expects them to remain at the top of college basketball for years to come.