Head Coach Kelly Rae Finley and her 10-seed Florida Gators women's basketball team (21-10) arrived in Connecticut on Thursday. They're set to take on the 7-seed UCF Knights (25-3) in round one of the NCAA Tournament. The game will be played in Storrs – in the home arena of the fabled University of Connecticut's women's basketball team.
https://twitter.com/GatorsWBK/status/1504456321365651458?cxt=HHwWhMC58bTD8-ApAAAA
Gators Road to the Big Dance
It's difficult to argue against this having been a successful season for Florida thus far.
Entering the year with an interim head coach in Finley, after Newbauer's departure, expectations were weary from Gator-nation. The ensuing season-ending injury and then eventual transfer of Lavender Briggs led to an even more cautious outlook on what was to come. However, despite all of the obstacles facing the Florida Gators women's basketball team, they've managed to persevere their way into the NCAA Tournament.
The top stories for the Orange and Blue as the season went on became the success of Coach Finley and the dynamic guard-duo of Kiara Smith and Zippy Broughton.
The last few games of Florida's season didn't exactly go as those invested in the program would have hoped. They finished 1-4 in their last five games, a final stretch outlined by the story of Kiara Smith's knee injury that she suffered in the SEC tournament – one that will keep her out for the Big Dance.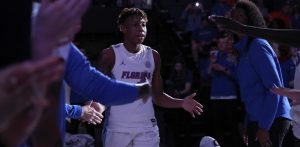 Smith was unquestionably the Gators' leader on the court this season, leading the team in multiple statistical categories. What the injury means is that Broughton is going to have to step up against UCF in her absence.
In fact, the whole team will.
The Gators are injured. They're a lower seed and they really weren't even supposed to be here. They'll look across the court on Saturday and see the Knights' head coach –  Katie Abrahamson-Henderson – the same coach who led the Albany Great Danes to upset Florida in the first round of the Gators' last NCAA Tournament appearance: 2016.
The odds aren't great, but if this season has been about anything for Finley's squad, it's been about perseverance and defying the odds.
https://twitter.com/GatorsWBK/status/1504130067726798851?cxt=HHwWhsC47fmU398pAAAA
Knights' Calling Card
Defense wins championships. At least, the Knights are hoping so – because, if indeed the old cliché is true, they'll be in more-than-great shape going forward.
UCF has arguably been the single most stout defensive team in the entire country. They're allowing the fewest points per game, at least, giving up an average of just 47.5 a game to their opponents. They force just under 20 turnovers a game and hold you to barely over 30% from the field.
Numbers like that are what have allowed the Knights to enter this year's tournament with the highest seeding in program history.
https://twitter.com/UCF_WBB/status/1503162883764461570?ref_src=twsrc%5Etfw%7Ctwcamp%5Etweetembed%7Ctwterm%5E1503162883764461570%7Ctwgr%5E%7Ctwcon%5Es1_&ref_url=https%3A%2F%2Fwww.blackandgoldbanneret.com%2Fwomens-basketball%2F2022%2F3%2F13%2F22976081%2Fbreaking-ucf-knights-play-florida-gators-in-ncaa-womens-basketball-tournament-first-round
However, facing a team who they have never beaten in school history, UCF can not rely on what they've done up to this point to thrust them past the Orange and Blue. They cannot open the game in a nonchalant manner, believing that what they've accomplished will leave an injured and recently-struggling Gators team to rest.
From tip-off, they're going to have to come with that same defensive energy that they played with for 28 games this season.
Apparently, they intend to – because, well, they seem to be coming in pretty confident in the matchup:
Here is @UCF_WBB's reaction to learning they will be facing 10-seed Florida for their 1st-Round matchup in the NCAA Tournament. #UCF #GKCO https://t.co/025cqUVU0y pic.twitter.com/yLK2oNd64i

— Bryson Turner (@itsBrysonTurner) March 14, 2022
Florida Gators vs. UCF Knights: The History
Dating all the way back to 1978, the Gators are 26-0 against the Knights – completely dominating the matchup.
Since 2005, though, the two sunshine state teams have only met twice.
In their last meeting, a Dec. 30 game back in 2015, the Gators triumphed 93-75.
Gators/Knights Going Forward
The winner of this Saturday's matchup will take on the winner of 2-seed UConn and 15-seed Mercer.
If UConn is to avoid the upset, they'll be a tall task for whichever Florida team they meet. Being on their home floor, in addition to the invigoration of energy and talent that comes with star guard Paige Bueckers (knee) returning from injury, they'll undoubtedly be heavy favorites to their 14th straight Final Four.
The winner of UF/UCF will need momentum to have a chance of advancing multiple rounds in this year's tournament.
It all starts Saturday for the two.