Scuderia Ferrari's Charles Leclerc commands a dominant drive to finish first, with teammate Carlos Sainz stealing second in the 2022 Gulf Air Bahrain GP. 
This weekend, Formula One fans were treated to their first action of the 2022 season. It's a pivotal year for the sport, with a myriad of new car regulations and multiple drivers joining new teams. Here is how everyone faired after race #1:
Ferrari Back on top
If Sunday's race proved anything, it's that Ferrari is significantly ahead of their competitors. The past couple of years has been difficult for the Maranello team, with their last win coming in Singapore 2019.
Strategically, all focus at the historic Italian manufacturer shifted towards building a dominant car and solid driver lineup for this season. To say the least, it looks to have paid off. Charles Leclerc put in a smooth race from pole and Carlos Sainz kept just enough pressure on RedBull to scoop up 2nd place.
Expect the Prancing Horse to be a frequent figure atop podiums this season.
Late drama for Red Bull
RedBull always has big aspirations in Formula One. This year, star driver Max Verstappen will look to defend his driver's world title, and all the changes present an opportunity to win the constructor's world title as well.
The Bulls completed great drives all race with Verstappen challenging Leclerc in p2 while teammate Sergio Perez ran steady in 4th. A podium and some vital points looked certain for the Milton Keynes team until engine issues forced retirements for both drivers. The next few races are going to be an uphill climb for Red Bull.
A tough result to take. We need to do a full investigation, but it looks like both Bulls suffered from a suspected fuel pump issue.#BahrainGP pic.twitter.com/TJiixJJbsO

— Oracle Red Bull Racing (@redbullracing) March 20, 2022
Hearing that fuel system problems are now believed to be reason for the 2 RBR #F1 #BahrainGP retirements. pic.twitter.com/R0YhI0XreJ

— Craig Scarborough (@ScarbsTech) March 20, 2022
Mercedes's early struggles
Despite Lewis Hamilton's podium finish, Mercedes struggled. Some late drama allowed them to secure P3 and p4, but they were far from their best.
Mercedes dominated the last era of turbo-hybrid cars but just couldn't find the pace to match RedBull or Ferrari. The silver arrows' car has numerous porpoising and brake issues. They simply weren't able to beat the lap times set by other teams. With Lewis Hamilton now paired alongside budding star George Russell, the team has high expectations for the rest of the year.
(2/2) Merc's bouncing & resultant brake locking issues clearly hurting them. RUS loses 0.4 in the first corner & over a tenth at both T10 & T13 where braking is tricky with the inside front tyre unloaded. Also seems to lift off throttle before final corner to settle the bouncing pic.twitter.com/w16GAMz15D

— Karun Chandhok (@karunchandhok) March 19, 2022
Consistency from Alpha Tauri and Alpine
2022 is a big year for french manufacturer Alpine. The return of two-time champion Fernando Alonso and talent Esteban Ocon means a goal to compete with the top teams this season.
Their new Renault E-tech (R.E.22) engine showed promise and both drivers are more than capable of keeping in the points each weekend.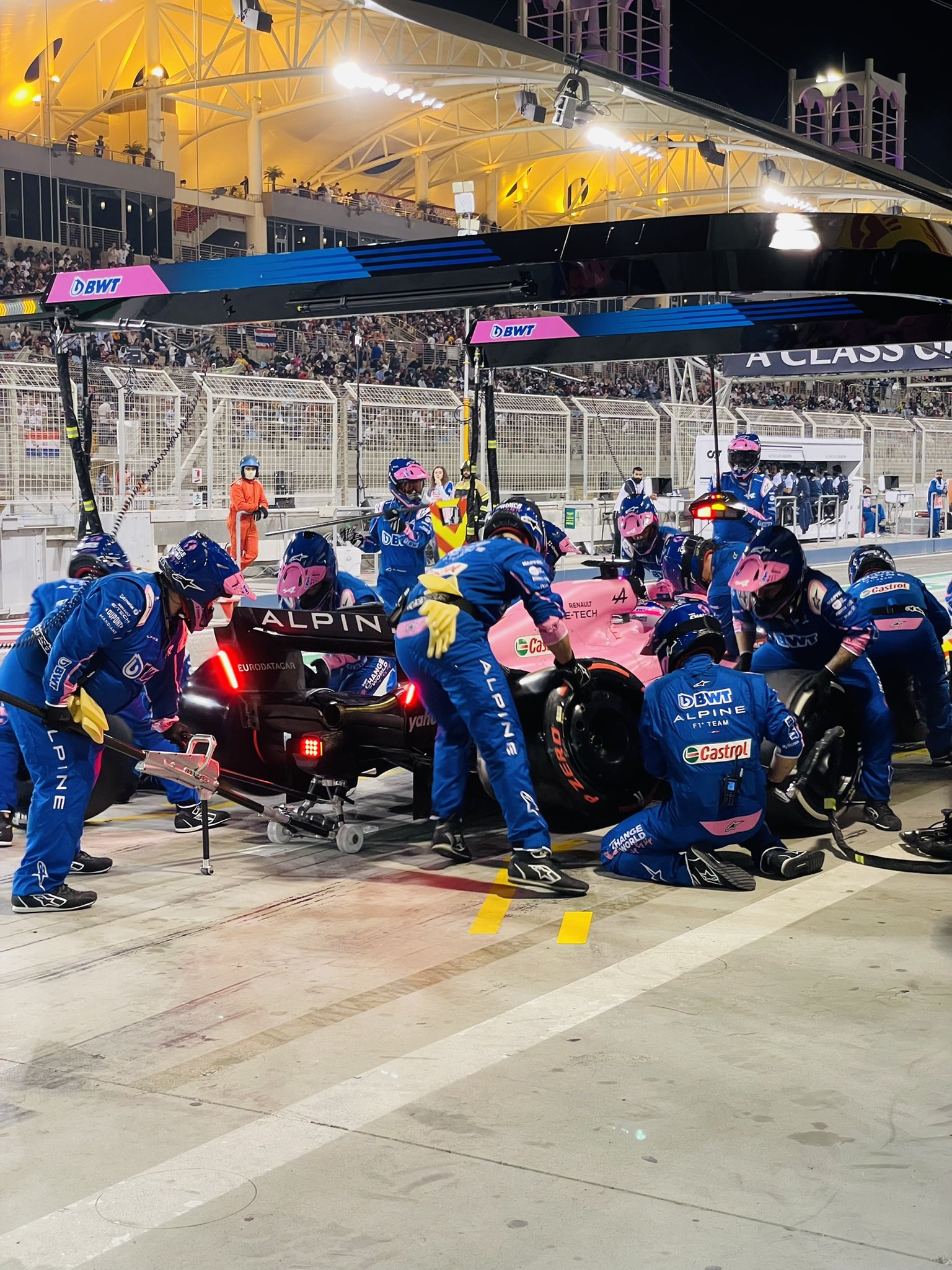 Alpha Tauri's veteran driver Piere Gasly is one of the most skilled drivers on the grid and was running in the top ten for most of the weekend. However, his car has obvious limitations as seen when it burst into flames on lap 46. Sophomore driver Yuki Tsunoda limited the damage by sweeping in to finish eighth.
Haas and Alfa Romeo shine
Haas drivers Mick Schumacher and Kevin Magnussen finished fifth and 11th, marking a massive jump from last year's no points season. The American-owned team devoted all of last year to building a sound car for the 2022 season, and expect to see them consistently in the midfield mix.
https://twitter.com/HaasF1Team/status/1505585696286945287?s=20&t=z6eAJmrmSwAecUoVdEd9SQ
Alfa Romeo also impressed, putting in a solid qualifying and scoring points in sixth and tenth place. Veteran driver Valteri Bottas showed his experience and challenged former team Mercedes all race, while rookie driver Guanyu Zhou made a strong first impression.
Bad start for the Brits
One of the more interesting observations of race weekend one was the large gap between the Ferrari customer cars (Haas and Alfa Romeo) and the Mercedes English customer team (McLaren, Aston Martin, Williams).
Aston Martin finished p12 and p17 with an overall quiet race.
Williams' Nicholas Latifi finished p16, while new teammate Alex Albon showed some moments of promise but ultimately finished p14.
https://twitter.com/WilliamsRacing/status/1505628743376715776?s=20&t=UuyLq1aYP7TCWQV58ucfNg
McLaren seems to have had the biggest fall from grace after finishing in 14th and 15th. The papaya team finished 4th in the constructor's title after a close battle with Ferrari all of last season.
Overheating brakes and a number of other problems continue to plague the Woking team. The window heading into Saudi Arabia is short, but improvement feels the most critical for Andreas Seidl and Zak Brown's team.
https://twitter.com/McLarenF1/status/1505634805123366926?s=20&t=UuyLq1aYP7TCWQV58ucfNg
The drivers will be back in action next Sunday at 1 pm est in Saudi Arabia.