The Florida Gator baseball team beats number 21 LSU 7-2 on Friday night in Gainesville in the SEC home opener for the Gators.
Defense
Hunter Barco took the mound Friday night in glorious fashion, eliciting cheers from the 6,226 fans in attendance. Over the course of the game, Barco recorded eight strikeouts while allowing no runs on just two hits.  He was helped by excellent defensive play, especially in the outfield where they made some nice plays on some hard hit balls.
Typical night's work for @hunter_barco.

7.0 IP
2 H
0 R
3 BB
8 K pic.twitter.com/zIj7OX376V

— Florida Gators Baseball (@GatorsBB) March 26, 2022
When Barco left the mound, freshman Nick Ficarrotta took to the hill, and despite giving up two runs he closed out the game and secured the Gator win.
Gator Offense Gets Going
Florida started off strong, with Colby Halter hitting a home run in the first Gator at bat of the night.  Then in the fourth inning, BT Riopelle hit another long ball knocked back another homer to right-center field. The fifth inning is where the Gators broke the game open with a four run inning.  Jud Fabian had an RBI groundout to start things off.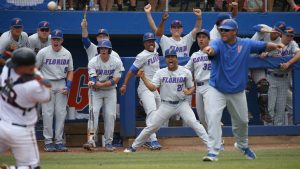 A single by Sterlin Thompson later sent Deric Fabian home and Wyatt Langford turned up the heat with a two run homer later in the inning, pushing both he and Kendrick Calilao across home plate.
https://twitter.com/GatorsBB/status/1507536711827480577?s=20&t=fIS5MEUozFt0NJCc_NokcQ
Florida is now 3-1 in SEC play while LSU drops to 1-3 in the league.  Game two of the series will be played at 6:30 p.m. at Florida Ballpark on Saturday, March 26th.