Back on Jan. 18, Florida head football head coach Billy Napier hired Jay Bateman – former co-defensive coordinator and safeties coach at the University of North Carolina at Chapel Hill – to coach the Florida Gators' inside linebackers.
Welcome to The Swamp, @CoachBateman!

➡️: https://t.co/vPCDcubCfR pic.twitter.com/8PhhBEST4F

— Florida Gators Football (@GatorsFB) January 18, 2022
Bateman's time at UNC was outlined by major defensive improvements for the team. His aggressive style of game-planning resulted in his unit landing in the top five nationally for total sacks. Bateman's stout LB group even produced a first-team All-American back in 2020.
He and UNC "mutually" parted ways after the 2021 season, and Bateman now finds himself right in the middle of the Florida Gators defense.
During a press conference Tuesday, the Virginia native spoke to his mindset, the group of guys they've got in the locker room and the organization as a whole.
Personnel
Bateman was also asked about the group of players he'll have manning the linebacking core this season. He eluded to what he was told to expect, and then how those expectations proceeded to be met and then some.
"When I got here, everyone told me that I had one of the better rooms and I think they were right."
Skillset
When asked about his unit's skillset, questioned on his confidence in their ability to make plays, he gave firm assurance that there are things to be very excited about with the Gator linebackers.
Billy Napier
Bateman, unsurprisingly, had nothing but great things to say about his employer.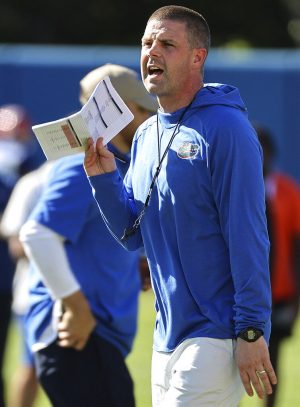 Since his hiring just under three months ago, him and Napier's relationship appears to have been seamless. In fact, the entire coaching staff seems to be in great conjunction.
"Every day we come to work and you're working for a really, really bright, smart, detailed guy. I don't think there's anyone else like him."
Tackling
When asked what the one thing that he is most vehemently honing in on with his group is, Bateman promptly responded without a second of deliberation: tackling.
   "I think if you play linebacker in college football nowadays, you have to be an elite tackler."
What's Ahead?
Florida will play their annual Orange and Blue Game at The Swamp on Thursday, April 14, for the Gators-loyal. This will be the first time fans will get to see Bateman's linebackers in action, albeit not quite the real thing.
https://twitter.com/GatorsFB/status/1509938645721128973?cxt=HHwWmoC9rdjMsPQpAAAA
The Gators' official season-opener will be Sept. 3 when Utah travels to Gainesville.
Until then, though, it sounds like fans should have no reason for perturbation when it comes to their defense's middlemen.
Coach Jay Bateman seems to have things headed in the right direction.