After their first loss in over a month this past Monday, the Eagles bounced back in style on Wednesday. Oak Hall scored 11 unanswered runs in the later innings of their 13-4 victory over the St. Francis Catholic Wolves. The win put the Eagles at 6-2 on the year, their best start to a season since 2007. 
Neil Ruth had another stellar offensive performance. He collected two hits, two runs, three RBIs and a sacrifice fly. Harrison Beach also walked away with a multi-hit game in addition to two runs. Jackson Beach drove in three runs on the day (all of which came from a third-inning double). 
Ruth and both Beaches combined for four stolen bases on the day. Bear Wooley and Ethan Szlachetka also each grabbed a stolen base of their own. Jack Kuzmicki hit a triple in the fourth inning and got the win on the mound. In five innings pitched, he gave up six hits, four runs (one earned run) and two walks. He also threw five strikeouts.
Struggling Out Of The Gate
Wednesday's game was the second time Oak Hall and St. Francis have met this year. In their first matchup last month, the Eagles took an 11-1 win home with them. They hoped to replicate this success early on in this one, taking an early 2-1 lead in the first inning. Szlachetka and Troy Freeman each hit a ground ball that drove in a run. Following a solid first inning for the Eagles, the Wolves quickly responded. 
After one inning of play, the Eagles lead 2-1. A ground ball from Ethan Szlachetka allows Harrison Beach to make his way home from third. Abram Jerkins (who pinch ran for Jack Kuzmicki) scored on the following play on an error from the Wolves. pic.twitter.com/mS6Q5HWMxm

— Jack Meyer (@jackmeyerespn) April 6, 2022
Oak Hall picked up two outs early on in the inning. However, in the blink of an eye, St. Francis took over. Cooper Lieffers hit a single. Darion Medley hit a triple. Mason Bell hit another single. All of a sudden, the Eagles were down 4-2. 
While it took a while for the team to get going, Eagles Head Coach Kevin Maris knew the team would respond soon enough. He cited the team's mental toughness as one of the driving factors behind their strong start this year.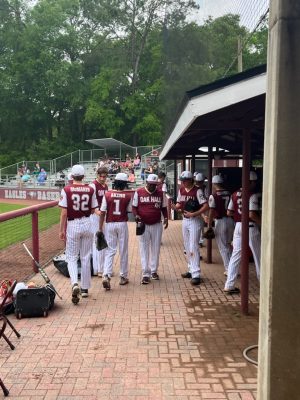 "They know we can put runs on the board at any point. We've been averaging 7+ runs per game," Maris said. "When someone comes out and puts a couple of runs on the board, we shouldn't freak out at all. It's just a matter of trusting what we can take care of."
Despite failing to record a hit in the second inning, the Eagles found their footing as the game went on. The Wolves got men on second and third base in the top of the third inning. However, a fly ball to Szlachetka in center field and a strikeout by Kuzmicki prevented any runs from scoring. With the deficit still manageable, the Eagles knew it was time to act.
Catching Fire Late In The Third Inning
The bottom of the inning got off to a solid start. Harrison Beach hit a line drive to secure a single, and Kuzmicki was hit by a pitch to get on base. Soon after, Beach scored via an error by St. Francis' pitcher. Troy Freeman hit a sacrifice fly to bring Kuzmicki home as well. Before the Wolves knew it, the Eagles had already tied the game back up. Things only got better for Oak Hall from there.
Tie game! Harrison Beach scores from second on a wild pitch, while Jack Kuzmicki advances to third. Kuzmicki scored on a sac fly from Troy Freeman two plays later. We're all tied up at 4 apiece in the bottom of the third inning with two outs. pic.twitter.com/bh6vsLZsZz

— Jack Meyer (@jackmeyerespn) April 6, 2022
After Freeman drove in the tying run, Ruth knocked in a hard ground ball for a single; he went on to steal second and third base back-to-back. Eventually, Ruth made it home after St. Francis' shortstop overthrew the first baseman in an attempt to tag out Emory Ezzell.
With Ezzell already on base, Brody Beaupre hit a dinger into left field that gave Oak Hall a man on first and second. In the next at-bat, Aaron Akins was walked by the Wolves' pitcher. All of a sudden, the stakes were extremely high for Jackson Beach as he stepped to the plate. Tie ball game. Bases loaded. Two outs.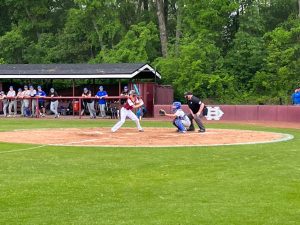 After grounding out in his first two plate appearances, Beach knew he needed to step up for the Eagles when it mattered most.
"I had a rough first two at-bats, so I just needed to put that away and just go into it fresh," Beach said. "I knew my team needed me there, and I just wanted to do whatever I could to get the runs across."
With the count at 1-1, Jackson Beach blasted the ball deep into left field. Despite a sliding effort from St. Francis' left fielder, the ball missed his glove. The Eagles had already started sprinting home before it hit the ground. By the time Beach made it to second base, all three runners had scored. The Oak Hall crowd erupted in cheers. The Eagles just went from a 2-run deficit to a 4-run lead in the span of one inning.
At the end of the third inning, the Eagles are back on top with a 8-4 lead. A massive 3-run double from Jackson Beach cracked the game wide open for the Eagles. pic.twitter.com/wxRfBvq3FZ

— Jack Meyer (@jackmeyerespn) April 6, 2022
Adding On To An Ever-growing Lead
The Eagles' third inning momentum carried them throughout the rest of the game. A double play from Freeman and Jackson Beach helped Oak Hall make short work of St. Francis in the top of the fourth inning. Kuzmicki then opened up the bottom of the inning with a powerful triple that landed in the outskirts of center field.
Oak Hall's lead grows! A dinger from Neil Ruth into right field brings in two more runs to extend the Eagles lead to 10-4. The Eagles have a man on first and second with no outs in the bottom of the fourth inning. pic.twitter.com/AxsDP0SgMS

— Jack Meyer (@jackmeyerespn) April 6, 2022
After Freeman and Szlachetka were subsequently walked, the bases were once again loaded for Oak Hall. Ruth made quick work of this in his at-bat, knocking a single into right field after only three pitches. Kuzmicki and Szlachetka both scored on the play, extending the Eagles' lead to 10-4.
Oak Hall's lead grows! A dinger from Neil Ruth into right field brings in two more runs to extend the Eagles lead to 10-4. The Eagles have a man on first and second with no outs in the bottom of the fourth inning. pic.twitter.com/AxsDP0SgMS

— Jack Meyer (@jackmeyerespn) April 6, 2022
Ruth used Oak Hall's loss on Monday as motivation to play harder in tonight's game. The Eagles took some time to shake off their frustrations over the last couple of days. Once the team got going today, they never looked back.
"We were putting the [previous] game behind us," Ruth said. "When we lose, we bounce back. We were focused on this game and beating them."
Later on in the inning, a pair of ground outs from Beaupre and Akins drove in back-to-back runs for the Eagles. By the time the fourth inning ended, they had jumped out to a 12-4 lead.
Taking Care of Business To Close It Out
After the fourth inning, the Eagles had essentially taken full control of the game. Despite the Wolves kicking off the fifth inning with a double, Kuzmicki struck out the following three batters. Oak Hall added another run to their lead in the bottom of the inning. Szlachetka hit a line drive deep into center field for a double; after advancing to third on a ground out from Freeman, Szlachetka made it home on a sacrifice fly from Ruth.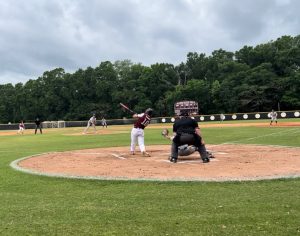 To kick off the sixth inning, Jackson Beach took the mound in hopes of finishing this one off. In his pitching season debut, Beach did not disappoint. In just two innings pitched, Beach racked up three strikeouts while allowing no hits or walks.
St. Francis' only batter to make it on base in the final two innings reached first base on an error in the seventh inning. He was caught stealing in the subsequent at-bat. In their final at-bat, the Wolves grounded out to Freeman at third base. Freeman made the throw to Kuzmicki at first, and that was it. Eagles win. Again.
Wednesday's game served as Oak Hall's second game out of three slated for this week. The Eagles will travel to Countryside Christian School this Friday to take on the Minutemen.
"We're going to have a light workout [on Thursday] because it's been a long week," Maris said. "We've had to burn a lot of pitching throughout the week. We'll have a nice, light practice and get mentally ready for Friday's game."