Marjory Stoneman Douglas High School in Parkland, Florida, has been through it all. While big-league players such as Anthony Rizzo, Jesus Luzardo, and Colton Welker have come out of that school, the same community saw 17 innocent lives taken away in the shooting on February 14.
As the community continues to recover, the varsity baseball team has been one major story. The Eagles, who have four the University of Florida commits, were recently crowned state champions for the second consecutive season after going 30-2.
"It's not very often you get four guys going to a high-level program like the University of Florida to play college baseball," said Head Coach Todd Fitz-Gerald. "It's one of the college baseball programs. I couldn't be more happy for them and it's almost like the Marjory Stoneman Douglas Gators."
Chris Arroyo
Chris Arroyo had a historic season for the Eagles. Not only was he on the mound in the state final, but he also hit a walk-off mercy rule home run to give the Eagles a 10-0 win.
https://twitter.com/chrisarroyo2022/status/1528434570575716355?s=20&t=r1Ctab3Tm26TcfZ3Td5n0A
The senior finished the season 10-1 with an era of .64. He also recorded a save in the High School Baseball Invitational championship game featuring the top 16 teams in the nation. Offensively, Arroyo hit .313 with six home runs and 22 RBIs. He finished his three-year varsity career with nine homers and RBIs.
"It is always amazing to be able to perform my best for my team and end my high school career like this," said Arroyo. "I only had one goal from the beginning of the season and it was to go back to back."
Jake Clemente
Jake Clemente played for two years on the MSD baseball team and won a pair of Championships. Like Arroyo, Clemente was a two-way player and pitched a complete game in the State Semifinals.
He finished the season 10-0 with an ERA of 1.10. Clemente also hit the game-winning home run in Regionals ad well as one in the State Championship Game. He also finished the season with five homers and 23 RBIs.
"The bonds that we made is something I will be forever grateful for," said Clemente. "Being able to play with players that have so much talent and being able to practice with them and pick their brains to not only help myself but I can also help them."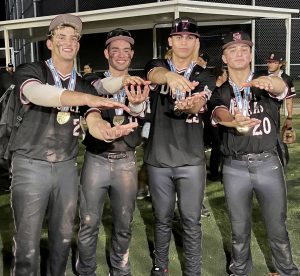 Christian Rodriguez
Christian Rodriguez still has one more year left on varsity. However, he has been committed to UF since he was a sophomore. The hard-throwing right-hander picked up the win in the Regional Final and went 7-0 this year with a 1.36 ERA.
In his high school career, Rodriguez is 18-1. When he is not pitching, he also played first base this year, hitting .385 with two home runs and 28 RBIs en route to his second state title.
"It feels amazing. It's really something special and something I will cherish for the rest of my life," said Rodriguez.
Jacob Gomberg
In his first season with MSD, after winning a State Championship as a junior with North Broward Prep, left-hander Jacob Gomberg was primarily used out of the bullpen. In 18.1 innings, he struck out 27 hitters. He made the start in the final of the National High School Invitational.
"Winning a state title means everything to me," said Gomberg. "This is more than a team. We are family. Everyone in this program pushes each other to be the best possible. At the end of the day, we are a bunch of kids who just love competing."
This MSD baseball team also featured ten seniors and nine currently signed to play in college. These four players had the chance to play with potential first-round pick Roman Anthony, who is committed to Ole Miss.
They will also likely have a chance to face off with their battery-mate, Santiago Ordonez, who is headed to Florida State University. With Rodriguez and Gomberg both back next year, MSD will look to become the first team in Broward County history to win three-state Championships.