Three Gator greats – Brad Culpepper, Errict Rhett and Tim Tebow – have been added to the 2023 ballot for induction into the College Football Hall of Fame. Florida has produced 13 Hall of Famers including Steve Spurrier, who was inducted both as a player and a coach.
Brad Culpepper
Brad Culpepper, a former Gator defensive tackle, played for the Gators from 1988 to 1991 for both coach Galen Hall and Steve Spurrier. His accomplishments include First-Team All-SEC (1991), Consensus All-American (1991), and the Draddy Trophy (1991). He also helped his team win the SEC Championship in 1991.
Culpepper ranks sixth all-time at Florida with 47.5 career tackles for loss, a school record among defensive linemen. This is Culpepper's second nomination for the College Football HOF.
https://twitter.com/GatorsFB/status/1533830452611633153
Errict Rhett
Errict Rhett, former running back for the Gators, was the first player in FBS history to rush for more than 4,100 yards and catch more than 140 passes in a career.
Rhett was a three-time All-SEC selection, made First Team All-American, and was the 1994 Sugar Bowl MVP. He scored 34 touchdowns in his four-year career and lead the Gators in rushing for all four seasons of his college career. He finished off his Gator career with a three touchdown performance in the 1994 Sugar Bowl, leading to his MVP honor.
Tim Tebow, Brad Culpepper and Errict Rhett were named to the College Football Hall of Fame ballot on Monday morning. More here:https://t.co/wGYof6Q7AZ pic.twitter.com/9kD1YfBfHn

— Jacob Rudner (@Jacob_Rudner) June 6, 2022
Tim Tebow
Former Gator quarterback Tim Tebow is considered one of the most legendary quarterbacks in the history of Gator football. Tebow was the first sophomore in college football history to win the Heisman Trophy. He has also won countless awards: the NFF Campbell Trophy (2009), the Maxwell Award (2007, 2008), the Davey O'Brien Award (2007), and First Team All-American (2007).
Tebow was a three-time SEC Offensive Player of the Year. The former Gator set 28 school records during his career. His most memorable accomplishment was leading his team to a pair of national championships in 2006 and 2008.
Tim Tebow is on the College Football Hall of Fame Ballot for the first time this year. https://t.co/k6rGHmmnLn pic.twitter.com/tIGiCqOnPb

— Nick de la Torre (@delatorre) June 6, 2022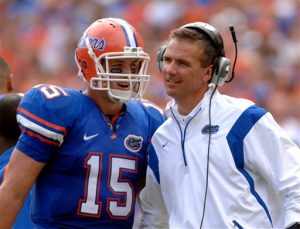 Coming Up: Hall of Fame Induction
The 2023 class is set to be officially inducted during the 65th National Football Foundation Annual Awards Dinner on December 5, 2023. They'll hold a permanent spot in the Chick-fil-A College Football Hall of Fame in Atlanta.
They will be honored at their respective schools with an NFF Hall of Fame On-Campus Salute during the 2023 season.