The Florida football team returned to practice on Sunday to continue preparation for head coach Billy Napier's first season at Florida. After having the previous day off, the Gators were back in the indoor practice facility due to afternoon showers. Below are some of the biggest takeaways from the media viewing portion of Day Four of fall camp, focusing on the offensive side of the ball. 
Competition Among Receivers 
Napier's confidence in the receiving unit has definitely grown since the spring. During Friday's media availability, Napier spoke about the high level of competition in the receiving position. 
Receivers
The wide receiver unit spent the majority of the media viewing portion of practice on the field running routes after beginning with blocking drills. The receivers ran the following routes: curl, slant, out-route, stick, tunnel screen, and dig. 
Wide receiver Ja'Quavion Fraziars has certainly been a stand-out among the wide receivers at fall camp. Fraziars especially stood out while running out routes during Sunday's practice. 
WR Ja'Quavion Fraziars running an out route on day 4 of fall camp pic.twitter.com/1l74Bgyr9g

— Ellie Shreve (@ellie_shreve) August 7, 2022
The 6-foot-4, 212-pounder joins Ricky Pearsall in his ability to make efficient and smooth breaks into routes. The two exhibit fast footwork that is consistently executed with accuracy. 
Pearsall, an Arizona transfer, is looking to make a mark on the Gator offense as he continues to impress at fall camp. Pearsall will be wearing the No. 1 jersey this season, a number worn by some of Florida's most successful players. Rashad Torrence II had the following to say about Pearsall's abilities. 
Torrence added how the receiving unit has come a long way since the spring and that Pearsall is "a nice piece to have."
Alongside Pearsall in the first receiver group on Sunday were Xzavier Henderson and Justin Shorter. Shorter, who sits at 6-foot-4, 223 pounds, finished the previous season ranking second on the team with 550 receiving yards and three receiving touchdowns. 
The former top 10 prospect was seen staying after practices in the spring to work on routes with Florida backup quarterback Jack Miller III. Shorter is expected to be a reliable option for the Gators this season as he continues to work toward his full potential. 
Richardson to Shorter on a dig route pic.twitter.com/94T12GgoKF

— Ellie Shreve (@ellie_shreve) August 7, 2022
Henderson and Trent Whittemore have also been receiving much praise recently. It will be exciting to see what this receiving unit will be capable of accomplishing this season with a reliable Whittemore and Shorter, and a promising Pearsall, among other notable talent in the group.
Tight Ends
Jonathan Odom remained in a non-contact jersey at Sunday's practice. The sophomore is continuing his recovery from shoulder surgery due to a torn labrum from the spring. Odom is expected to be cleared for this season. He stood aside for the blocking drills but participated for the remainder of the open viewing period. 
Jonathan Odom running a TE cross on day 4 of fall camp pic.twitter.com/IhM50Sw5pU

— Ellie Shreve (@ellie_shreve) August 7, 2022
Nick Elksnis showcases a high level of athleticism but lacks consistency. During Sunday's practice, he was observed executing an impressive pair of snags during air routes after dropping two catchable passes. It will be interesting to see how the redshirt freshman continues to develop at fall camp.
Dante Zanders made the transition back to tight end after Elksnis, Odom, and Gage Wilcox suffered injuries in the spring. Having previously played defensive end, Zanders now has a better perspective as he returns to the offensive role. During Sunday's practice, it was obvious that the recent graduate has made large improvements in receiving and running routes as well as continuing to be the best blocker among the group. 
Quarterbacks 
Quarterback Anthony Richardson and backup quarterback Miller were observed throwing consistent, clean passes during Sunday's camp. Richardson's progression as a passer is promising to see as he will lead the Gator offense this season.
The starting QB's growth is also evident to his teammates. "Everything y'all see in the games, we see every day in practice, more than once. He'll do crazy things in practice like four or five times," Zanders said.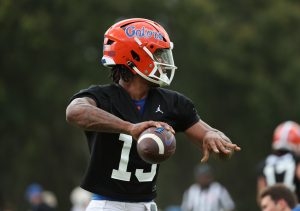 Sunday's Participation
Odom and QB Jalen Kitna were both seen wearing non-contact jerseys throughout the media viewing portion of practice on Sunday. Kitna worked off to the side of the field, marking the first time he had not participated in practice (at least during the media viewing portion). Kitna was seen riding a stationary bike off to the side. 
Additionally, left tackle Richard Gouraige was not seen at practice on Sunday. An undisclosed injury has kept Gouraige from participating in fall camp. Meanwhile, he has been working out in a non-contact jersey on the sidelines. 
Defensive back Dakota Mitchell and Kicker Trey Smack both traded their non-contact jerseys for standard ones for Sunday's practice. 
Additionally, defensive back Jaydon Hill was also not seen at Sunday's practice. Napier said Hill has suffered an undisclosed injury that will keep him out for the foreseeable future.
Lastly, true freshman tight end Hayden Hansen was not seen in attendance for Sunday's practice. Hansen has been at the prior three practices, participating without any restrictions.