Moving across the world away from friends and family can be hard. For sports fans, another challenge comes in: moving away from one's favorite sports and sports teams. However, that is the norm for some in the United States military. 
Many servicemen and women choose to join the military to follow in the footsteps of their families. Others join to help defend their country. The reasons go on and on. 
"It is something that has been in my family for a long time," JC Schilling said. "I am the third generation. I am prideful to follow in my parents and grandfather's footsteps."
NFL in Munich
On Sunday, Nov. 13, the NFL brought a little piece of home to these servicemen and women in Germany. The football league hosted its first-ever regular season game in Munich at Allianz Arena between the Tampa Bay Buccaneers and the Seattle Seahawks. 
https://twitter.com/Buccaneers/status/1592321490858418178
The United States has 21 military bases located around Germany with the closest located an hour outside of Munich in Garmisch-Partikirchen.
In German time, NFL games usually air from the later afternoon to late at night, or even into the next morning. This time, fans in Germany had the chance to watch the game in the middle of the afternoon while everyone else in the US needed to wake up early to catch it. 
The military offers an army sports channel that airs all the NFL games with only commercials about the U.S. military so that illegal streaming does not tempt service members to use illegal streaming to watch the games of a sport whose popularity is still in its infancy overseas. 
"For me, technology makes it a lot easier for things to feel closer [to home]," Schilling said. "To be able to experience this game has been really cool."
Salute to Service
The NFL and U.S. military have deep ties. Throughout the year, the NFL pushes its Salute to Service campaign in which they honor servicemen and women, veterans and their families. In November, each team selects someone working for their organization that exemplifies their salute to service and at the NFL Honors, NFL awards the winner. 
https://twitter.com/Seahawks/status/1592314965473783808
In the 2021 Salute to Service campaign, the NFL gave Denver Broncos fullback Andrew Beck the award. Beck is the son of a U.S. Army general. Beck went out of his way to host events for military families and their children to give back to those that serve.
Broncos Andrew Beck Wins NFL's Salute To Service Award https://t.co/5JF7sp7A3V pic.twitter.com/5lfr35AJNz

— CBSColorado (@CBSNewsColorado) February 9, 2022
Coming together
For the special Bucs-Seahawks game, different organizations held watch parties throughout Germany. The Edelweiss Lodge and Resort in Garmisch-Partikirchen hosted a party for servicemen and women. Tucked away under the German Alps, it is about a 10-minute drive from Zugspitze, the tallest mountain in Germany. The hotel is designated only for U.S. servicemen and women in Europe. Sometimes military from the U.S. will visit too, but it is not common. 
People traveled far and wide for this watch party. For instance, Lauren Herrin drove five hours with her children from their base. Her main reason to come was to meet the Patriots' cheerleaders and mascot who were attending this watch party to promote the Patriots' new "home market" in Germany as well as the next Germany game. Next year, the Patriots are expected to play in Frankfurt in the second-ever NFL game in Germany.
Herrin, who is from Massachusetts, is a big New England Patriots fan, so she was eager to attend.
"I was homesick and this is the closest thing to home that I can feel," she said. 
https://twitter.com/patsdeutsch/status/1591767615932071936
At the party, people repped the Seahawks or Buccaneers mostly, but some other teams' jerseys could be spotted too. The restaurant filled up to create a similar atmosphere to an American watch party. Cheering and high-fives were thrown around when one of the teams did something good. 
"[The watch party was] uplifting to be around," Herrin said. 
Hotel brings relaxation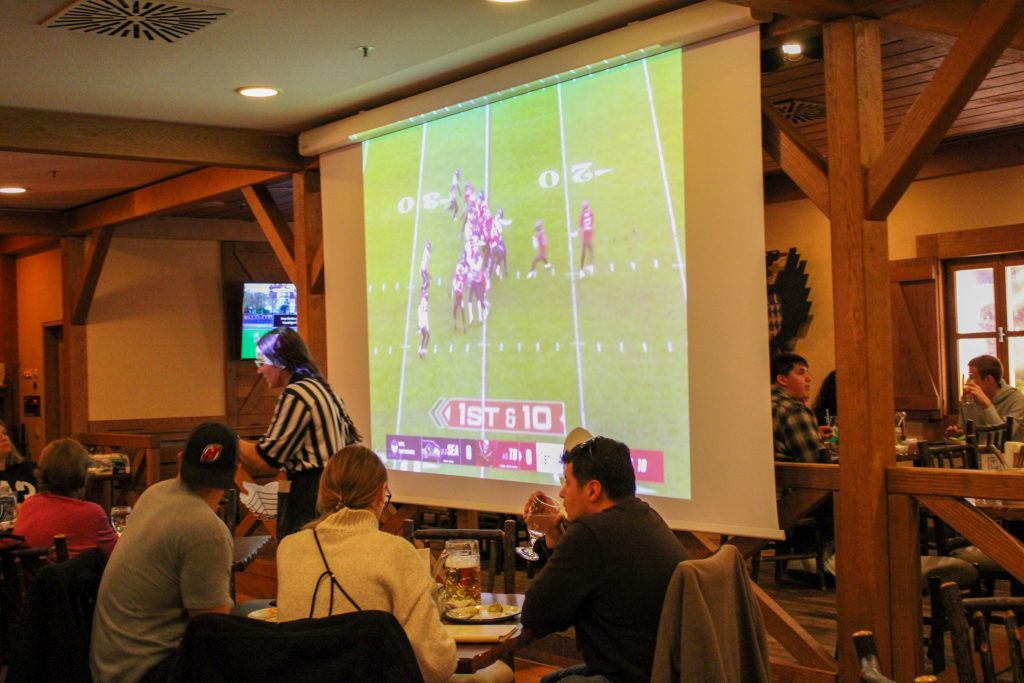 The Edelweiss Lodge and Resort is in place to serve the military and bring some comfort to the guests. It gives them a chance to get away from work and spend some time for themselves and family. 
"The whole reason we do this is to bring a piece of home to the servicemen and women here in Europe," Brad Hays, Edelweiss Marketing Director, said. 
This story is part of a special series WRUF reporters worked on to celebrate the last game of the 2022 NFL International Series this Monday, Nov. 21 in Mexico City. Find all our related stories here.